A glimpse into a firefighter's world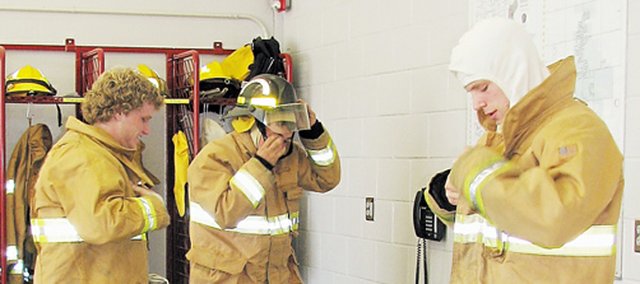 The Fairmount Township Fire Department has been helping young people realize their childhood dreams of becoming firefighters since 2001.
Four to five Basehor-Linwood High School students each school year are given the chance to live the life of a firefighter though FTFD's Cadet program.
Lt. Kenny Magaha said many use the program as a precursor to a career in firefighting.
"We put out applications in March or April," he said. "Those interested fill one out and we have a review board of three or four of us. Then we call them in and have an interview."
Accepting students into the program can be a lengthy process because the FTFD performs a background check by talking with teachers and friends to make sure the future cadet is in good standing. A grade average of C or above is also required as well as parent permission. Magaha said they want to make sure they're taking on responsible students because they will be working side-by-side with the firefighters.
"They do everything that we do, besides going in and fighting a fire," he said.
This year's cadets, Austin Call, Kyle Savner, Cole Derouse and Sean McDonnell, all seniors at BLHS, started the program the second week of August and come to the fire station to train for three hours every other day depending on their school schedules. The cadet program is considered a work-study program through the school.
"We thought that if we like this, it would look good on a résumé when we did decide to become firefighters," Call said.
A typical day may consist of a lecture, hands-on training with equipment and search-and-rescue training.
"We have two different houses to use for search and rescue," Magaha said. "They learn how to go through walls with the tools they have, we set controlled fires and they can put those out or we use a smoke machine."
The cadets admitted that some days are more exciting than others, such as when the alert tone sounds in the station, indicating an emergency call has been made. While sometimes firefighters sound the tone just to test the cadets, the trainees treat each tone as if it were real and have one minute to put on all of their gear. A few weeks ago, the cadets experienced one of their first fires.
"We helped put out a brush fire and we got to help with the hydrants and hoses," Savner said.
The brush fire also gave them the opportunity to see the humanitarian side of firefighting. While they didn't rescue a cat from a tree, the cadets did chase down the landowner's dog that had run away when the fire started.
On medical calls, the cadets have assisted in carrying the patient out of the home.
"They saw what we could do with the tools we have," Magaha said.
The cadets are tested weekly and also periodically write reports. Training will continue until the end of the school year where the students will wear red and yellow cords at graduation and receive a certificate of completion. They may then submit an application to become a full time firefighter with FTFD.
Magaha said the success rate through the program has been tremendous. Four out of the five cadets from last year are currently earning their bachelor's degrees in fire science and several other former cadets have gone on to become firefighters at Fairmount Township as well as in Nebraska, Kansas City, Kan., Johnson County and Leavenworth.
"There are a lot of paid guys that started out just like these guys," he said.