Networking business aims to help women 'celebrate themselves'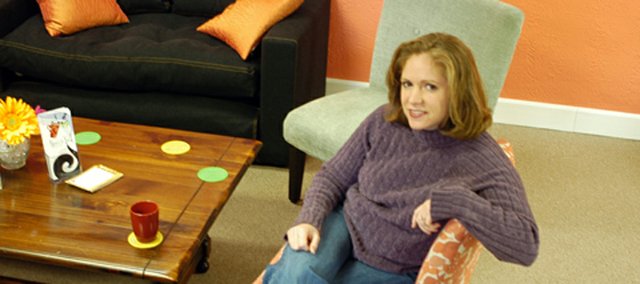 For seven years, Michelle Harris loved leading weekly meetings as a sales director for Mary Kay cosmetics.
The Lansing native said the meetings were intended for women who wanted to grow their Mary Kay business, but they turned into something much more.
"These women were coming back every week, maybe for the business skills but more for the life-enriching skills they were getting, and for the positive, empowering, social, uplifting environment that they were becoming very addicted to," Harris said.
So Harris set out to create that same environment for women of all types with a social networking business called "Here's to You!" she launched in September. She said the network's weekly gatherings in a Shawnee studio, 12480 W. 62nd Terrace, allow women to discuss topics that "will fill you up and help you get through life."
Harris said she was inspired to create a similar environment after talking with her sister and wishing she could have the same group networking Harris had through Mary Kay, helping women celebrate themselves.
"What about my friends and my sister and my neighbor, your every day woman?" Harris said. "Where's this opportunity lie for a weekly refocus, or a weekly redirect, rejuvenation or re-empowerment for the every day woman who needs to probably be taking a little more time focusing on who she is and herself."
Harris said she briefly toyed with writing a book, but that idea never came together.
"Then I decided 'No, it has to happen live, in person every week, just like we did at Mary Kay,'" she said.
Harris did a year of research and development about social groups, studying anything that meets on a weekly basis, from Bible groups to Weight Watchers and Mothers Of Preschoolers, even Alcoholics Anonymous. But none of the groups she found were open to all women.
"I thought, could I create this environment, that had wonderful, life-enriching topics to be discussed," she said. "… Could I create this in an energetic, very fun environment that would appeal to women, and I believe it appeals to women who are growth-oriented, forward-thinking, looking for a very uplifting, positive, social environment."
In six focus group sessions, Harris invited a variety of women to come in and take surveys about what they were seeking in their lives, as well as learn about the network.
"And then people were starting to sign up and become members, and that's how we got our first charter members," Harris said.
The group needed a place to meet, and Harris said the Shawnee studio had just what she needed — the right space and accessibility. At the studio, members attend one of three weekly meetings and a once-a-month special Saturday program. Thus far, Saturday programs have featured an image and fashion consultant, a holistic nutrition coach and a women's home maintenance consultant, and December's Saturday program will feature a belly dancer.
The group operates on a membership basis. Prospective members can come to one of three weekly meetings for free to learn more, and then there is a one-time $20 registration fee.
There are two forms of membership — a regular membership, in which members have access to all network activities, and the "Saturday Swingers," in which members receive network newsletters and can come to the monthly Saturday events.
Harris said network members focus on building positive relationships.
"It's one of those check the negativity at the door things; we don't talk about any complaining, no whining, no negativity," she said. "It's all growth-oriented, forward-thinking topics. If I hear any negativity coming out in any discussion, I will quickly ask that person 'What did you learn from it or what came from that, what's the success behind it?'"
Though some people tend to think of the term "networking" as career-related, Harris said the group is more about life networking. However, there are some benefits for business women.
"There are a lot of women in business who choose to come here because they're sitting around with every day women who may be their potential clients or employees, so there's a diverse group here," she said. "It's really been very exciting to see who's showing up here and choosing to be a member."
Harris said the group appeals to women of all types, whether they are young and single, stay-at-home moms, business women or empty nesters. She said her members also come from all over the metropolitan area.
The group currently has weekly meetings Monday evenings and Tuesday mornings and evenings. Harris said she'd like to keep each meeting to about 20 women, so she plans to offer meeting times as the network grows.
Harris said she wants to build the business from the ground up here first, but she'd like to see the network expand across the country some day.
"If you think about it, there's no welcome wagon anymore," Harris said. "... I would like to put it in other communities, so if you know you are moving to Denver, I'm going to look up the local Here's To You! because it's a safe place to meet great women."
For more information, contact Harris at 232-6432 or visit herestoyouweekly.com.