Waiting for a second chance at life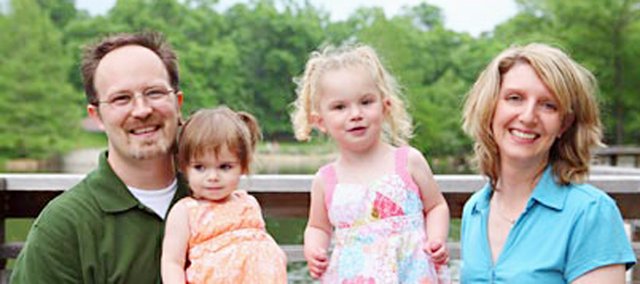 Visitors to the living room of Chris and Amanda Ellis' home in Eudora are greeted by the vibrant colors of children's toys. To the right and in the kitchen are small dresses resembling those of princesses in Disney movies. These items make it clear that little girls live and play here, which makes the lack of sound all the more noticeable.
Chris, Amanda and their 2-year-old daughter Elorah haven't heard the voice of 3-year-old Isabelle since Sept. 18, when complications from an Aug. 25 heart surgery led to the placement of a tube down her throat. She was taken Oct. 28 to St. Louis for a transplant evaluation and approved for the transplant.
"For nine weeks, we had no idea what it was going to take — playing with her pacemaker, playing with her fluid levels, playing with the medications — and then when we got to St. Louis and heard the news, that became our sole focus," Chris said.
Isabelle has had heart issues since shortly after her birth a cardiologist from Kansas University Medical Center told Chris and Amanda that she had hypoplastic left-heart syndrome. The condition is a series of complex congenital heart defects and would require a three-stage surgery called the Fontan series.
"We were very naïve as a young married couple not having a baby. We didn't think about those kind of things, and we were suddenly baptized into the world of congenital defects," Chris said.
The Fontan series is not a cure, but tricks the heart into functioning correctly. Isabelle did well with the first round of surgeries in 2005. But Isabelle didn't respond well to the installation of a pacemaker in late August at Children's Mercy in Kansas City, Mo., and her kidneys stopped working. Once her kidneys began working again, a pacemaker test was performed and her body again didn't respond well.
Doctors found Isabelle had a blood clot in one of the areas where she had an operation. She then developed edema, which is an abnormal buildup of fluid between tissue cells.
On Oct. 10, her Fontan series was undone. Her chances for survival were unknown, but she pulled through.
About two weeks later, doctors sent her to St. Louis for the transplant evaluation.
"You think that you'd just show up, and they would OK the transplant. But they put her through days and days of testing, and by miracle alone she made it through the tests," Chris said. "I have no idea how to explain how she's still here.
"We know a lot of stories about kids like her and they don't end so well. We just believe she's here because she's meant to be. She's extremely tough and resilient."
Isabelle is No. 3 on the 1A list — the highest of three transplant lists — for a heart transplant, but there is no set time for when she will receive a transplant.
"Unfortunately, there has to be a tragedy somewhere else in this country or the state in order for us to become a candidate," Chris said.
Warrior princess
Isabelle is known to be a princess not only at home, but also throughout the Children's Mercy ICU. However, the Disney princess dresses in the Ellis' kitchen might belie how tough Isabelle is.
"In one aspect, she's made of porcelain, but in another this kid is as tough as they get. The best way to describe it is she's a warrior princess," Chris said.
It wasn't easy for Chris and Amanda to tell Isabelle about the surgery she was going to have back in August, but she accepted what her parents told her without a fuss.
"She just seemed to have this quiet understanding about it all," Chris said. "It's almost like she could tell that we were very confident, and she fed off of that."
That confidence doesn't come easily for Chris and Amanda, but they know that Isabelle likely will respond to their demeanor, so they make a concerted effort to remain positive.
"When your kids is seriously or critically ill and is laying there on life support, you are helpless," Chris said. "And we're not just helpless for a moment; we're helpless for 11 weeks and we're going to continue to be helpless for a while. The part where we can help — and one of the chaplains at the hospital told us this — is that we are Isabelle's support system. So that's all the help we can be — we've held her hand, we've read her stories, give her hugs, give her kisses and remind her that she's going home soon."
The parents shared the news of Isabelle's anticipated homecoming with her 2-year-old sister, Elorah. Chris and Amanda told Elorah of her sister's plight when the younger sister began questioning them about Isabelle's continued absence since August. When
Chris and Amanda were trading off spending nights at the hospital with Isabelle and Elorah began to ask where everyone one was.
The parents, however, didn't take Elorah to visit her sister during her stay at Children's Mercy because it could have been traumatic for both girls. But once Isabelle was moved to St. Louis, they decided it was time.
Upon entering Isabelle's hospital room, Elorah couldn't stop staring at Isabelle but was initially standoffish. When she became more comfortable and moved closer, Isabelle reached out to hold Elorah's hand and the two girls didn't let go for the rest of the visit. Then she gave Isabelle a kiss on the nose and hugged her while Chris and Amanda sat and read stories to the girls.
"For Elorah, it was like heaven on earth because both of her parents were there and her sister was there and it hadn't been that way for nine weeks," Chris said. "It was a very tearful moment."
Financial strain
The Ellis family is facing a financial strain in addition to the physical and emotional toll of having their child in and out of hospitals for three years.
That burden became heavier as Amanda had to quit her job as a middle school teacher at Basehor-Linwood so she could stay with Isabelle full time.
Insurance has covered most of their costs, but Chris said he couldn't imagine what the cost of the transplant would be.
"At this point in time, we don't even have a clue about what it's going to cost," Chris said. "We were told the average transplant costs about a quarter of a million dollars, and I haven't even talked about the last 10 weeks (when Isabelle was in ICU at Children's Mercy.).
"There's no standard, but it didn't matter what it would cost. I would work three jobs if that's what it would take to pay for the care that was needed for our kid."
But with the help of their neighbor Denise Davis, a charitable fund has been set up. The Ellis family also will begin working with the Children's Organ Transplant Association, which is a charitable organization that teaches people how to raise money.
Chris also is using his professional abilities in Web-site support for Sprint to keep friends and family in the loop as well as provide information for Isabelle's transplant fund.
"You can imagine the calling tree you'd have to have on daily basis, but now people can just go on the Web site and get the information," he said.
It's just as important to Chris to educate other families who might be going through the same situation.
Since Isabelle's birth he has taken meticulous notes about each and every surgery, medication and issue Isabelle has endured.
"I'm the kind of person, when I run into an issue in my life that is particularly difficult or painful, I document it and then get it out there and share it," he said.
He encourages other parents in the same situation to do the same thing.
"You really need to know what's going on with your kid because they don't know," he said. "So you've got to be an advocate for them. The doctors and nurses change on a daily basis. We are the one thing that's constant."
Chris said Isabelle has been in good spirits. But a recent visit with Isabelle gave Chris insight to how Amanda is feeling despite being hooked up to several regulatory machines.
"She's a total chocoholic, so I told her 'When you get home, you can have all the chocolate you want,'" he said. "Then she mouthed the word 'chocolate,' and I thought, 'OK, I know my kid is still fighting and wants what she wants."
For more information on Isabelle's transplant fund or to follow her progress, go online to
caringbridge.com/visit/isabelleellis or heartofaprincess.net.