Seniors should put Medicare Part D choice on shopping list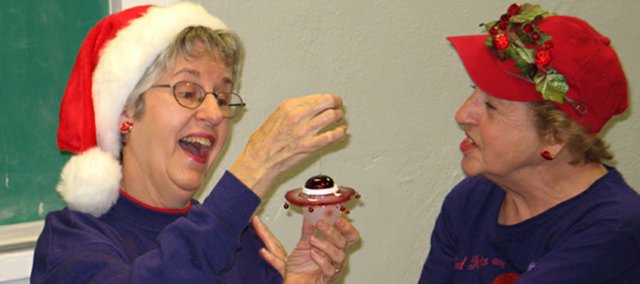 Premiums for Medicare prescription plans are going up — some as much as 84 percent, according to the Kansas Department on Aging.
Humana, one of the most popular plans in Douglas County, is raising its premium from $20.90 per month to $38.50, an 82 percent increase.
Those higher premiums are driving senior citizens to shop for a better plan, and for many it's their first shopping excursion since enrolling in the Medicare Part D program three years ago.
"I just want to make sure the plan that I have is still the best one available," said Glenda Brenton, 88, who was waiting to go over her Medicare plan Monday afternoon with a trained volunteer at the Lawrence Senior Center.
Under the Community CCRX plan, Brenton is facing a 25 percent increase in her monthly premium and a 7 percent increase in her deductible.
After sitting down with Sally Brandt, a volunteer with the Senior Health Insurance Counseling for Kansas (SHICK) program, she left with three other drug plan options that could save her between $48 and $228 a year. The premiums and deductibles differed on each option, and Brenton planned to go over them with her pharmacist before making a decision.
"I am glad I did it," she said. "You just don't know what the other companies are offering."
And there's plenty of options — 48 in fact, with little time for shopping. The enrollment period ends Dec. 31, but seniors are encouraged to enroll by Dec. 15 to ensure a smooth transition.
SHICK volunteers, such as Brandt, are available to help wade through the complicated process. They are available Monday mornings through the end of the year and Wednesday afternoons through Dec. 10.
Seniors just need to bring their Medicare card and a list of prescriptions. Low-income seniors are encouraged to bring an income statement because additional financial help could be available.
Ashley Schemm, community services program assistant for Douglas County Senior Services, added that shopping is smart because the coverage of drugs also can change from year to year. She recently helped a woman whose drug was dropped under the plan she was enrolled in.
"If she would have stayed in that plan, she would have been paying $239 a month for a drug that wasn't covered," Schemm said.
And for those who don't have any drug coverage and are not enrolled in a Medicare prescription plan, you might want to consider it if you are eligible. That's because you will pay a penalty if you decide to join later.
Marlene Ebeling, 71, of Lawrence, learned that lesson the hard way.
"I hadn't taken any medication until just recently and so I really didn't find a need for it," Ebeling said. "Then, I had some very expensive eye drops for my eyes and things like that and I thought, "Eeeww, I need some help on this.' So I thought I had better get into a plan."
Because Ebeling waited 36 months to enroll in a Medicare plan, approximately $10 will be tacked on to her premium each month for the rest of the time that she is enrolled in a plan. If she waits another year, the penalty will be even steeper.
"I don't think that's fair," she said. "I wish somebody would have told me."
Julie Brookhart, public affairs specialist for the Kansas City office of Centers for Medicare and Medicaid Services, said it works just like other insurance programs.
"You don't take out auto insurance after you've had a car wreck. When your house burns down, that's not when you take out fire insurance," she said. "You have to be covered and pay into a system."
She added, "It's a strong message to say that if you aren't taking the coverage because you don't currently take any prescriptions or very few. It's worth it to choose one of those least expensive plans that at least cover the prescription that you are taking or the least expensive plan overall as far as monthly premium goes, so that you don't eventually have to pay that penalty."
— Health and environment reporter Karrey Britt can be reached at 832-7190.