Alden-Harrington celebrates 100 years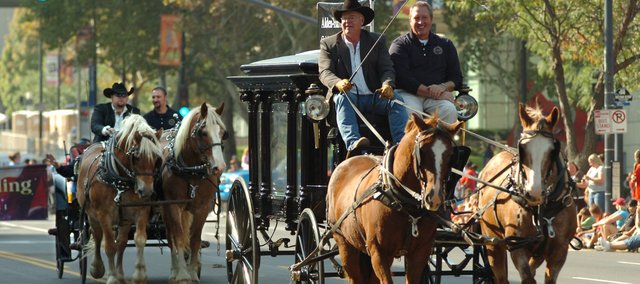 A Bonner Springs business just turned 100.
Alden-Harrington Funeral Home, the oldest, continuously run family business in Bonner Springs, got its start in a livery store at the corner of Cedar and Front streets in September 1908, by Frank Alden, the grandfather of John Harrington.
Harrington has retired from the business full-time, which is located at 214 Oak St., but "is still in charge," said his son Jeff, adding that Harrington comes in every other day. He's been in the business since the mid-1960s, after he graduated from mortuary school in Houston, Texas.
Harrington's grandfather, Frank Alden, began Alden-Harrington after working for William Starr Twist, who had his own funeral home, as well as an ice company, a hauling company and a horse business, among other concerns in town.
"He kept pushing grandfather to the funeral side," Harrington said.
So Alden went to Chicago and attended the Barnes School of Anatomy and Sanitary Science and Embalming, graduating in 1905. Harrington had his grandfather's diploma framed, and it hangs in the funeral home's office.
Not surprisingly, a lot has changed since then, both for the family business and the funeral industry.
Son-in-law takes over
Alden died at age 47 in 1924, a year after his daughter, Irene Alden, married J. Ward Harrington, who took over the operation of the funeral home, which was renamed Alden and Harrington, Undertakers.
Shortly after their marriage, the business relocated to 117 Oak St., where a hair salon now sits. In 1937 the business moved to its current location.
An ambulance service that was operated out of the funeral home ceased operations in 1974, when the city of Bonner Springs purchased two ambulances.
The ambulance service made for a chaotic atmosphere at the funeral home, Harrington said, and the day it stopped, June 1, "was the happiest day of my life," he said.
Harrington's wife, Connie Harrington, and their daughter, Andrea Harrington-Summers opened a second family business, Harrington Floral, which was begun about 20 years ago next door to the funeral home.
"Our particular part of business is based on older families and their relatives," Harrington said. The networks of extended families who stayed in the same place for generations, clients who were "married to somebody who was married to somebody — that's the type of thing that word of mouth does for you, the kind of thing that keeps a family business like this going for 100 years."
Change is constant
As with every other part of the county, times have changed in that regard.
"Now we're having a surge of people we were never acquainted with and their families," Harrington said. "You never know where your work base is going to come from."
The changes in its client base haven't meant big changes in the services the family business provides, though, Harrington said.
"In this part of this country, demographics have very little to do with tradition," Harrington said, in relation to the services families want for their deceased. "We have such a melting pot of all parts of country that wind up here. … We try to fit every service style and type to what the family thinks is appropriate," including "simplistic forms for people not, quote-unquote, religiously oriented."
Another change in the business is one that's affected industries of all kinds.
Everything is computerized," Harrington said. "We don't have to hand-scribe all our records anymore. It's definitely an advantage to have hard-copy files (also) but it's so much quicker to do what we do. The volumes of paperwork that we do are astounding."
The funeral home's hard-copy records are still used on a regular basis, in fact.
That's because Alden-Harrington receives three or four requests on genealogical records each week, by Harrington's estimate.
"We don't mind helping people at all" with such requests," Harrington said. "It's just a matter of working it in with the work schedule."
Next 100 years
Harrington's sons, Brad and Jeff Harrington, have followed in their father's, grandfather's and great-grandfather's footsteps.
"I'm excited to take the family business into the next 100 years," Brad said.
With that goal in mind, Alden-Harrington has introduced a video-tribute service, in which it uses a computer program to produce a video made with photos submitted by the family.
Another new service offered at the funeral home, which is done by a third-party company, offers candles made out of the casket flowers.
Brad said one change he's noticed since he began working in 1994 is the growing popularity of cremation.
"I don't know why," he said. "It just seems like a trend, though cost can be a factor. … A lot of people like that — that way they can have ashes sprinkled over a favorite place."
Horse-drawn hearse
Ten years ago Alden-Harrington introduced an option for families that brought back a tradition last offered more than 60 years previously: a horse-drawn hearse.
The hearse, which John Harrington said was close to a "mirror image" of the Sayers and Scoville model used by his grandfather, could be seen in the American Royal Rodeo parade Saturday in Kansas City, Mo.
The hearse is available for the trip from the funeral home to the Bonner Springs Cemetery, and Jeff Harrington said, "I'm surprised how often it's been used … about
once every other month."
Jeff said he didn't know of any other funeral homes in the Kansas City area that use a horse-drawn hearse on a regular basis.
"I think that's the draw; it's beyond words, how much respect it shows," he said.
The family typically arrives by car at the cemetery first. Contrary to what many might think, including Jeff, at first, the hearse goes too fast — 7-8 miles per hour — for a funeral procession on foot to keep up, and going any slower than that would be dangerous because of street traffic.
Also, the two horses and hearse are kept and maintained off-site elsewhere.
"When we first got it I thought we could just keep the horses in a field," he said.
But keeping a horse takes work and knowledge, and Jeff joked, "I know which end of the horse to feed and which not to, and that's about it."
The people who choose the horse-drawn option, Jeff said, aren't necessarily who you'd think they'd be.
"I thought when we'd first get, we'd use it for old-time farmers," he said, but many of them said, "that's the last place I'd want to be, behind a horse."
Other people say the opposite.
Jeff mentioned a woman who lived along the route that the hearse would take to the cemetery.
"She always saw it and mentioned it to her sons" that she'd like to have the horse-drawn hearse used for her service," he said. "That's a compliment. I'm honored by that."
As for the question of whether the business will be run by a fifth generation of Harringtons, Jeff said he has reason to be optimistic.
His and his siblings' children range in ages from 3 to 20.
"At the present time none of them have expressed a desire to go into funeral industry," Jeff said. "However, none of us at that time were planning on it either."
Jeff said his family was still working celebration plans for Alden-Harrington's centennial.