Burns was good pal, great man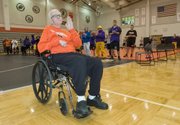 We have a friend on the road to heaven that as a teacher, a coach, and city recreation director touched the lives of many persons.
Dick Burns, my longtime friend, was hired in 1959 by the Bonner Springs Board of Education to teach Industrial Arts and coach football. He and I started a good friendship that lasted more than 50 years and we both had two things in common — kids and sports.
Dick wore many hats in his more than 50 years of contribution to the Bonner Springs community. After meeting Dick, as chairman of the city recreation department I was able to get Dick involved and together we ran the baseball program for many years.
Dick introduced the victory song, "The Goat," that created so much school spirit and enthusiasm at BSHS.
After several years of coaching football, Dick got interested in high school wrestling and in the early 1960s as a one-man committee he attended the Board of Education meeting to present his proposal to launch a high school wrestling program. It was approved by the board, and Dick was named head coach. After one season to prepare for the sport, Dick proceeded to win 10 consecutive East Kansas League championships. He had a total of 11 in his career. He started the Invitation Wrestling Tournament that in latter years became known as the Dick Burns Mat Classic. In the meantime he also founded the kids wrestling program, one of the first in the area. Kids wrestling is still active in the school district.
After serving 10 years supporting city recreation, Dick was named the first city recreation director.
Dick has been known largely for his coaching, but the man was an excellent classroom teacher and instructor. He had several students that got jobs as welders due to his instruction.
Dick possessed many talents that included being a good singer. He sang at my daughter's wedding and he also sang the national anthem at Kemper Arena when the Kansas City Kings honored Eddie Nealy, and Dick did a fine job.
We became close friends and after coming to Bonner Springs as a single person, we had him in our home on many occasions. There were even times he came and cooked our dinner. As recreation director, Dick utilized more of his expertise by designing the concession stand and restroom at Lions Park and he also drew up the plans for the Bonner Springs Community Center that houses the library, senior citizens section, Jim's gym, and the city recreation offices. This was a transformation that was hard to believe with Dick designing the rooms that were shop areas in the old high school, but he turned it into a beautiful facility.
Dick was known for his discipline in the classroom and in the wrestling program. Dick was the only Bonner Springs High School coach to ever be named to the Kansas State Hall of Fame in wrestling. I am sure by now Dick has taught the angels the words to the ever-popular "The Goat" victory song. He also was known for taking great care of his wrestlers regardless of race, creed or religion. One incident Dick was taking a carload of wrestlers to a clinic in Colorado Springs, Colo. It had been a hot drive so as the team neared its destination he suggested taking a swim. The wrestlers were in the pool ready to swim when the pool manager came over and told Dick that the black wrestler could not swim. Dick told the man to refund his money because if he couldn't swim then nobody would swim.
Another fine trait of Dick and his wife Marge is that they sent eight children through college and all have made the Burns family proud.
Dick and I spent many hours watching sports and we even stayed up all night for election results when John F. Kennedy was running for President.
I am sure Dick Burns is up there in heaven because he has already had his share of hell. One person in the Burns family I would like to single out is Patty Burns — who is the very image of her mother, Marge — and her husband Dwayne for their loving care for Dick for the last 16 years. The entire family has been very supportive of Dick Burns and they made him a very proud man.