Child's smile 'priceless' to Youthfriend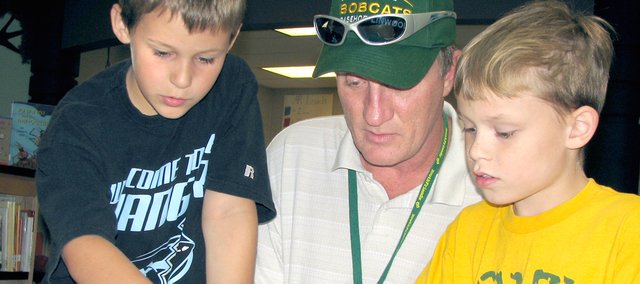 The kids call him the "candy man" or "Billy Bob" and YouthFriend Bill Nichols is proud of his nicknames.
Between physical therapy visits to the Veterans Affairs Hospital in Leavenworth, the disabled Army veteran and Basehor resident has found the time to mentor twice a week for the past three years in Basehor-Linwood District schools, but he said he would visit every day if he could.
"Kids are just the greatest thing in the world," Nichols said. "The best thing is seeing the smile of a child. It's priceless."
As a YouthFriend volunteer, Nichols spends time with students either in groups or one-on-one working on spelling words and math problems, reading books or just lending an ear to listen. Students who do their work and stay out of trouble are rewarded with a piece of candy, and teachers said students see working with him as an incentive for good behavior and improvement in their work.
"He has a fun personality and the kids are drawn to him," said Betsy Hermreck, third grade teacher at Glenwood Ridge Elementary School. "There is a specific child that he works with, but all the kids know him and are excited to see him."
Nichols admits he wasn't the poster child for good behavior in school. As a young student, he said he was a bit of a troublemaker, hyper and disobeyed his teachers, but as a result he understands what students are thinking and why they act out making it easier for him to relate to them. He said that while his parents did a good job at home, having a mentor at school would have definitely been beneficial.
"A lot of times a kid just wants to talk," he said. "There are so many kids that need somebody to work with them or just somebody to listen to them."
YouthFriends coordinator Tammy Potts said Nichols is the perfect example of the positive impact mentors can have on children.
"Bill has a giant heart," she said. "He knows what he would have loved to have had in the classroom. He definitely steps up to the plate as a YouthFriend."
Nichols will be recognized as the top YouthFriend of the year by riding in the YouthFriends and Care Cats convertible during the homecoming parade at 5:30 p.m. Friday, Oct. 3. He will be joined by this year's top Care Cat, senior Hannah Auman.
Care Cats is a branch of YouthFriends, which utilizes Basehor-Linwood High School students as mentors for younger children. Potts said a record number of students showed interest in the program this year with more than 150 applying for a chance to participate. While YouthFriend volunteers go through a rigorous screening process including a background check, Care Cats, who are under the age of 18, are chosen based on character, attendance, grades, recommendations from teachers and parents and class schedules.
The top Care Cat each year is not necessarily chosen by the number of volunteer hours completed, but how well he or she works with young students. Potts said Auman was chosen this year because of her unique approach to working with students as well as her communication with the teachers to make sure she treats each student as an individual.
"She doesn't just focus on if they're behind in class," Potts said. "She focuses on their strengths and encourages them to do better overall."
Now in its 10th year in the Basehor-Linwood School District, the goal of the YouthFriends program is to make a difference in the lives of as many students as possible during their school years through mentoring.
For more information about the program, or to volunteer, contact Potts at (913) 724-1488 ext. 111 or tpotts@usd458.org.