Craig is king at Rim Rock
Boys finish fifth, girls take second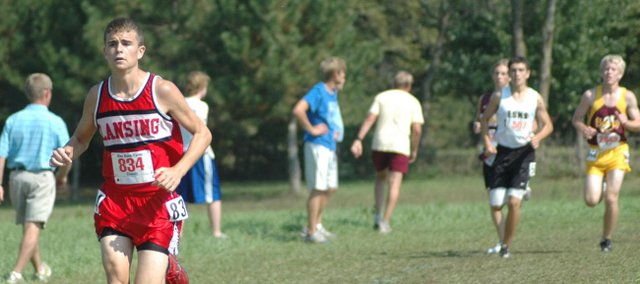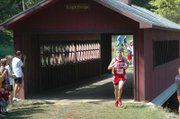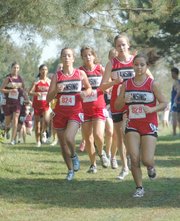 Brandon Craig left no question who was the top runner in the varsity blue 5K race on Saturday at the Rim Rock Farm High School Cross Country Classic in Lawrence.
Craig, a Lansing High junior, won the race by a comfortable 37-second margin, covering the course in 16:41.39.
The runner-up, Clint Kessler of Wichita West, finished in 17:18.43.
Craig's teammate, sophomore Pete LaMoe, also had a stellar performance. He finished 13th in 18:11.95 after outkicking a few other runners down the home stretch.
The LHS duo led the Lions to a fifth-place finish in the team standings out of 20 teams. Maranatha Academy was the team champion.
Lansing's No. 3 runner, senior Greg Bremser, was 42nd in 19:16.44.
Also for LHS, senior Ezra Carpenter was 64th in 19:54.83, freshman Scott Moore was 117th in 21:22.17 and senior Wes Appleget finished 137th in 22:24.74.
The Lansing girls placed second out of 22 teams in the varsity blue 4K race. Only Wamego beat them in the team standings.
Wamego's BreAnna Briggs was the meet champion in 16:00.84, but LHS also was represented in the top 10. Junior Lauren Jaqua finished fourth overall in 16:39.20.
Lansing's next three runners rolled through together. Freshman Julia Beemer and junior Julia Winkler finished side-by-side, taking 29th and 30th. Beemer's time was 17:50.48 and Winkler's was 17:50.77. A few steps behind in 33rd was junior Melanie Pilkington in 18:00.16. Rounding out the first five for LHS was junior Kate Meara. She finished 59th in 18:45.60.
Also for the Lions, junior Sarah Nielsen was 62nd in 18:48.26 and freshman April Elkins was 120th in 20:20.19.