Minors in possession: Sandstone citations keep court docket full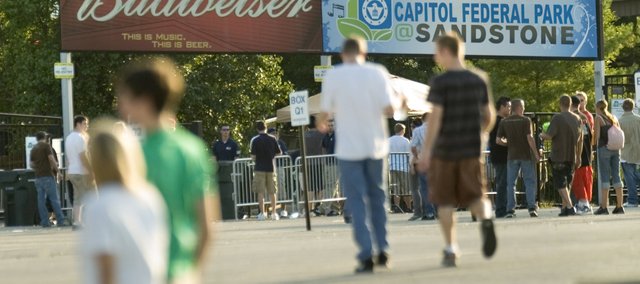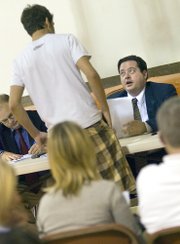 Bonner Springs — In the classroom-sized, salmon-and-blue multipurpose room of the Bonner Springs Community Center, seven people, all between the ages of 18 and 20, wait their turn in the stuffy room among about 20 other people to speak to Judge Bill Hutton.
Bonner Springs Municipal Court is in session, and the seven are to be arraigned on charges of underage possession of alcohol this year at Sandstone.
As each came up, Hutton explained the charges and possible penalties if found guilty.
There are, at most, three options for those charged with minor in procession: pleading guilty, pleading not guilty or applying for a diversion.
Everyone at the arraignments charged with MIP took the route of a diversion, which meant that as long as the person paid the fine of $400, plus court costs of $49.50, within six weeks, and stayed out of trouble for six months, could keep his driver's license and have the charges dropped.
The seven were among the 21 people arrested by Bonner Springs Police for MIPs during the June 20 Summer Jam, the first concert of the year at Capitol Federal Park at Sandstone Amphitheater. After meeting with Hutton, each came out to a table in the Community Center gymnasium and spoke to Tony Corporan, assistant prosecutor, before signing a diversion contract.
Justin McDowell, 19, Bonner Springs, had gone to the June 20 show to see the performer Tech N9ne.
"Me and my buddies were sitting there, sharing a beer," McDowell said.
Then a couple of plain-clothes police officers approached them.
"I thought they were going to ask to join our hacky (sack) circle," McDowell said, not suspecting the two were police officers.
The officers showed McDowell and his friend their police identification and asked to see the young men's IDs.
"I only had three drinks," McDowell said.
Still, he couldn't pass the eye test they gave him after taking his beer.
"They kicked us out but told us we could come back" another time, McDowell said. "They were actually pretty polite."
At the hearing, McDowell had at first been planning on pleading guilty. Doing so would cut $50 from his fine. It would also mean his license would be suspended for 30 days. But, he decided, because he believed the conditions included a period of supervised probation, which McDowell said would mean he'd have to take urine tests, to go with the diversion.
Corporan said there was no requirement of a supervised probation in such cases.
Most people who are charged with MIP go the diversion route, though Corporan said the decision to grant a diversion is entirely at the discretion of the city prosecutor, and is in fact a continuance of a case. At the end of the six month diversion, it's the prerogative of the city prosecutor whether to drop the charges.
'A pain to pay'
Another person who chose the diversion route was an 18-year-old from Topeka.
She declined to give her name, as did her 22-year-old boyfriend, who was charged with furnishing liquor to a minor. They're both from Topeka, and were busted before the June 20 show started, the man said.
"I had two drinks," the girl said.
Her boyfriend had just minutes before gone to a vendor selling frozen mixed drinks, and because it was a hot day, he said, got one for each of them.
The two were kicked out of Sandstone after spending a short time in a room the police use on the grounds of the amphitheater park.
"That was the worst part about it," the man said. "They kicked us out … They told us we'd go to jail if we came back."
Both asked for and received a diversion, which meant the boyfriend received a $500 fine and his girlfriend a $400 fine.
"It's a pain to pay," he said, and added that they would be "never coming back."
McDowell, for his part, said the fine was the worst part. He works at Taco John's.
Will the experience serve as a deterrent for him in the future?
"Hell, yeah, it'll make me think," he said.
Still, McDowell said, the crackdown policy seemed out of whack, compared to his previous visits to the venue, when he said he got away with plenty more than drinking.
There were "people in front of us," smoking marijuana, McDowell said of his experience, and the plainclothes officers that arrested him and his friend went right by those people, he said.
"They really have stepped up enforcement" of underage drinking, he said.
While the vast majority of people charged with MIP do go for the diversion, Corporan said he's seen a handful of people who tried to fight the charges, and they all lost.
Their defenses were that they were just holding a drink for someone else, he said. What those people didn't understand, Corporan said, is that the state law and the very name of the charge is for a minor in possession — that is, the person charged does not need to have imbibed at all.
Still, Hutton said he'd seen some successful not-guilty pleas, when officers were unable to identify the person later in court.
MIP arrests are made at other locations, said Bonner Springs Police Lt. Rich Schubert, but the "vast majority" is at Sandstone shows.
Under-18 crowd
For those under 18 charged with MIP, the process is a bit more involved than the over-18 cases that go through the Bonner Springs city prosecutor. These cases are handled by the Wyandotte County Community Corrections juvenile division and the District Attorney's office.
First, each person charged with MIP is screened for eligibility for a diversion, and if the juvenile has no other crimes and has not been previously offered a diversion, the case is forwarded to the District Attorney's Office. If the District Attorney's Office decides to offer a diversion, the juvenile applies for a diversion and goes through a brief interview process with Wyandotte County Community Corrections staff, who then files a report with the district attorney. A contract is then prepared by the District Attorney's Office, stipulating the facts of the complaint. The juvenile charged has a right to have his or her attorney and parent scrutinize the contract before signing it.
"Each contract is basically the same," said Crystal Sprague, administrator of criminal justice programming for Community Corrections for Wyandotte County.
That means each contract requires a drug and alcohol evaluation, a formal diversion period of four months and a community service requirement of 15 hours.
Additionally, the juvenile charged is required to have good attendance at school or work, pay any restitution he or she might owe and comply with random urinalysis collection if instructed. Also, they must meet with diversion staff of Community Corrections once a month for the term of their diversions.
Patroling Sandstone
The Bonner Springs Police Department has had six plainclothes officers enforcing the underage drinking law at the last couple of Sandstone shows, Lt. Rick Schubert said, along with about a dozen other officers assigned to traffic duty.
Schubert said most come peacefully, but "people have resisted arrest; they've tried to run or fight … It doesn't happen often, but it does happen."
Kevin Pew, general manager of Sandstone, said most of the MIP busts take place before shows start. Of the 21 MIP arrests made at the June 20 show, for example, 11 took place before 5 p.m.
"We believe it's in the best interest of patrons and attendance," to work collectively with the Bonner Springs Police Department, the Wyandotte County Sheriff's Office and the Kansas Alcoholic Beverage Control to enforce underage drinking laws, Pew said.
New West Productions, which is in its first year as manager and tenant of the venue, has "continued to follow along the policies that have been in place" for the amphitheater, Pew said.
The number of police officers requested — and whose time is reimbursed to the city — by Sandstone for underage drinking enforcement can change, Pew said, depending on the estimated crowd size, the style of show and the estimate age of the audience.
The number of officers working the underage drinking detail "doesn't vary that much dramatically," Pew said.
Each vendor selling at Sandstone must go through TIPS training, Pew said, referring to a program meant to teach alcohol dealers how to recognize, detect and prevent intoxication in their customers. TIPS is an acronym for Training for Intervention Procedures,