CGSC

Foundation gets

NASCAR

exposure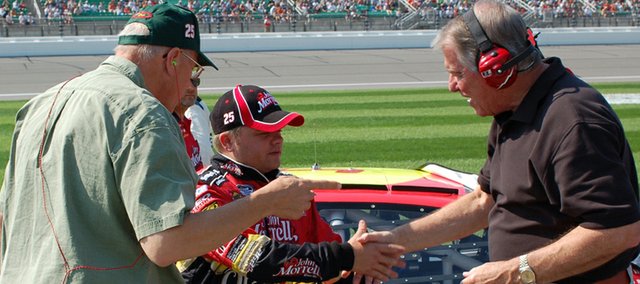 Number 25 Team Rensi Motorsports Ford sported the Command and General Staff College Foundation black and gold logo Sept. 27 at Kansas Speedway as a way to demonstrate support for the nonprofit organization at Fort Leavenworth, just a few miles away from the racetrack.
The relationship began when Team Rensi owner Ed Rensi became a board member of the foundation last year. Having had experience with a military sponsorship with the U.S. Marine Corps Recruiting Command, Rensi learned that the foundation is an important part of supporting the education of our nation's military leaders and felt compelled to get involved with the organization.
"I'm proud to show our support for the CGSC Foundation," Rensi said. "People don't realize just how important the education and training of our nation's military leadership really is. Whatever we can do to help the CGSC Foundation support the U.S. Army Command and General Staff College is important. The future security of our nation relies on military leaders who can think and operate in stressful situations. Enhancing their education is time and money well-spent."
The foundation supports the college by enriching the academic environment through programs and speakers; fostering a stronger relationship between the military and the private sector; enhancing the institution's research activities through sponsorships and other contributions; promoting leader development; encouraging excellence in the faculty and study body through awards programs and other contributions; and maintaining contact with alumni. Rensi and the other board members work to bring visibility to the foundation, and by extension the college, to bring in the necessary financial and other support for their work.
"We're absolutely pleased to have Ed Rensi on our board," said retired Army Colonel Bob Ulin, the foundation's CEO and a Lansing resident. "His experience, intellect and energy and the platform that racing provides, even for one race here in Kansas, is a huge plus for our mission."
Team Rensi Motorsports has always honored the military but on Saturday, it was the CGSC foundation logo that dominated the side of the car. According to Ulin's calculations based on the costs of sponsoring a car for one race and the particular placement of the logo on the car, the foundation received several thousand dollars worth of free advertising thanks to Rensi's generosity.