Campaign workers getting message out: Meadows
Like Denholm, Meadows is
VFW

member who stays highly involved on local Republican political scene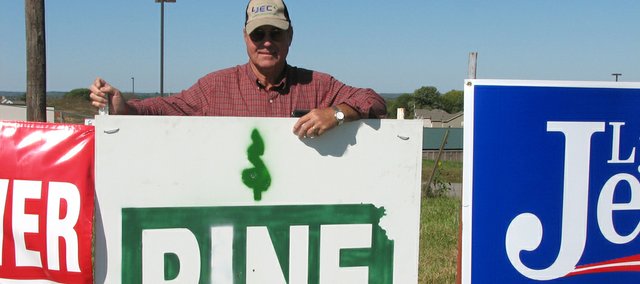 The back of Larry Meadows' truck is full of yard signs and banners bearing the names of his favorite Republican candidates.
It's not unusual to see the Tonganoxie resident placing signs on the sides of roads all over southern Leavenworth County each election year for roughly the past 20 years, but this year he's a little more visible.
"I have been retired since 2003," he said, referring to his business, Meadows Construction, which he started in 1976. "I've been more involved now that I'm retired. I was involved before, but I didn't have the time that I have now."
While he's been encouraged to run for office, he said he has no interest in running, but became interested in politics because of economic development in the area.
"My interest has been to improve the tax base in Leavenworth County and you need economic development to do that," he said. "You have to be somewhat of a politician to make that work."
He shows his support for economic development in other ways, including the active role he took in the task force to expand U.S. Highway 24-40 to four lanes. After a 15-year fight and ignoring the naysayers, the project was finally agreed upon and Meadows was one of the only original members of the task force by the time it was all said and done, he said.
"That got me into politics, too," he said.
His experience and support for the candidates, along with his special interest in bringing those candidates to the cities in Leavenworth County, earned him the spot of Leavenworth County Chairman this year for Senator Roger Pine's campaign.
"I want to try to help the people get elected that best represent the state of Kansas," he said.
The campaign work he does doesn't pay a dime, but he said the satisfaction he gets by knowing he had a hand in getting those representatives elected is pay enough for him.
"I enjoy it, but I don't like to lose," he said. "If I can win, that's what I'm interested in."