Developer,
KDOT

agree on grocery access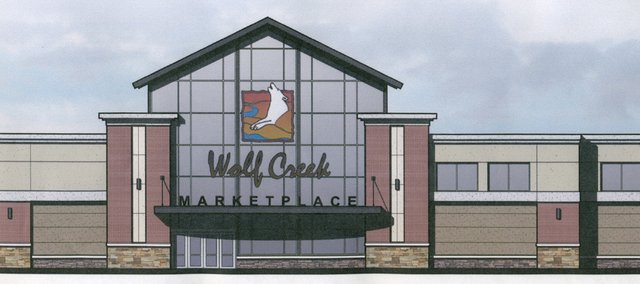 An agreement has been reached between the Kansas Department of Transportation and Benchmark Management regarding the planned grocery store in Basehor.
Benchmark Management owner Ed McIntosh broke the news to Basehor City Council members Monday night.
A right-in, right-out access off U.S. Highway 24-40 will not be granted, as McIntosh had originally hoped, but the company may receive a little help in modifying the 150th Street and 24-40 intersection.
Benchmark has been trying to build a more than 40,000-square-foot grocery store called Wolf Creek Marketplace on the northeast corner of 155th Street and 24-40 since announcing plans to the public in October 2006, but has run into a variety of obstacles — the largest being street access.
McIntosh has said that having two access points is important for the store's success. There is an access point to the future store at Wolf Creek Parkway and 155th Street, but KDOT denied a right-in, right-out access point on 24-40 between 150th Street and 155th Street mainly for safety reasons. McIntosh had planned for another access point at 150th and Wolf Creek Parkway north of 24-40, but the curvature of 150th Street near the intersection of 24-40 combined with hilly terrain makes visibility of that access point difficult. Benchmark has been in negotiations with KDOT about straightening out 150th Street at the intersection for several months.
"Finally in the last month and a half we made some progress," McIntosh said.
KDOT agreed to help Benchmark Management and the city of Basehor secure the necessary right of way — a triangle-shaped piece of land east of the current intersection — needed to straighten out the road, McIntosh said.
"What I'm asking for is just the permission to work with myself and Jim Pickett from KDOT to put this together for completion at a later date," he said. "We will meet and talk about purchasing the land (right of way). The next step is to come up with a plan for funding to fix the intersection. We just want to get this part of it solved."
Council members agreed this was something they were interested in discussing and exploring especially for the sake of getting the grocery store built and open for Basehor residents.
"I think that we need to have a consensus here to move forward and I'm all for it," Keith Sifford said.
"This is a solution that is absolutely necessary and it goes with the corridor plan," Jim Washington said.
McIntosh has said in the past that Benchmark will build the grocery store regardless of access issues and he repeated that statement Monday night. He also said construction on the store could begin within two weeks.
Action Items:
• Approved, 4-1, with Sifford opposed, authorization No. 3 for professional engineering services to Burns & McDonnell Engineering Company, Inc.
• Approved, 5-0, the revolving loan agreement with the Kansas Department of Health and Environment for the Wastewater Treatment Plant Expansion in the amount of $6,424,516 to be paid off in 12 or 20 years.
• Approved, 5-0, commencing the annexation process again for the Cedar Lake Estates subdivision.
Residents at the Sept. 8 public hearing questioned the sufficiency of the legal process required by K.S.A. 12-520a, because three out of 112 property owners did not receive certified notices of the annexation, Resolution 2008-09 was not sent with the initial notices and the detail on extension of services was deemed insufficient. It was recommended the city start the process over again to avoid any legal appeals.
• Approved, 5-0, a proposal to begin the effort in annexing the Cedar Lake Estates subdivision.
• Voted, 5-1, with Terry Hill opposed and Mayor Chris Garcia voting, to return the proposed zoning regulations back to the Planning Commission for further review.
• Approved, 5-0, staff to look into an ordinance to revise guidance on use of right of way to include designated easements.
• Approved, 5-0, a request from Gary Holst to reconsider the lot split of Lot C-5, Pinehurst North.
• Approved, 5-0, bids for street maintenance projects for 2008.
• Approved, 5-0, adopting an ordinance and lease agreement with KDOT for certain communication equipment.
• Approved, 4-1, with Sifford opposed, the waiver of excise-tax fees for USD 458 in the amount of $43,000 for the new Intermediate Basehor Elementary School.
Basehor-Linwood School District Assistant Superintendent David Howard spoke to council members during the public portion of the meeting stating that the school district often allows city entities to use school buildings at no cost. He also mentioned that the district recently agreed to allow the city to build a temporary construction road through school property for the construction of the wastewater treatment plant expansion. These were examples of a cooperative spirit the school district has had with the city, he said, and asked that the council reconsider waiving just the transportation-excise tax rather than all the building permit fees as originally requested a few weeks ago, by adding the item to the agenda.