'Cats protect their house on homecoming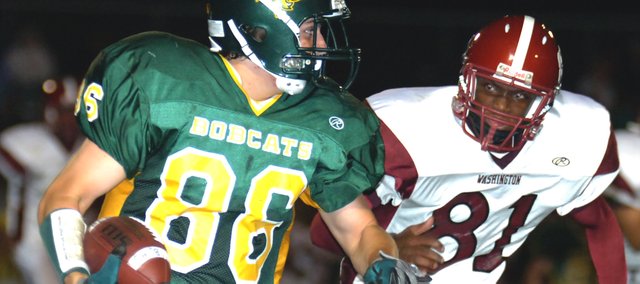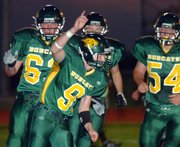 Maybe every week should be homecoming at Basehor-Linwood High School.
For one week, it was the antidote that the Bobcats needed to stop a three-game losing streak.
Basehor-Linwood wasted little time entertaining the alumni and fans who showed up for the parade and homecoming game on Friday, scoring back-to-back touchdowns in the first quarter en route to a 42-21 victory over Washington High School.
Statistically, Basehor accumulated 385 yards of total offense, which doubled Washington's offensive scoring output.
BLHS struck early in the game with an eight-play drive that culminated with a Logan Ross touchdown reception from Brandon Leppke.
On Washington's first drive, it lost 30 yards on two plays and fumbled on the third play. Basehor's Bobby Courtney recovered the fumble.
The Bobcats marched down the field with a mix of passes and 5-yard runs. The drive culminated with a Leppke touchdown run as Basehor led 14-0 with 3:17 to play in the first quarter.
"That was a great start," coach Steve Hopkins said. "I think the first possession on first down was the first positive yardage we have had all year on first down."
BLHS scored again in the second quarter on a 20-yard touchdown run by Zachery Smith, which was the senior's first career touchdown. The extra point attempt was good.
Basehor-Linwood scored again with 2:27 to play in the second quarter on a touchdown pass from Leppke to Ryan Murphy. Murphy was able to make a diving catch on a ball that slipped past the Washington defensive back and into his hands.
"Brandon just threw it up and I went up and got it," Murphy said.
Murphy finished with four catches for 89 yards and a touchdown. Leppke completed 11 of 17 passes for 136 yards. He also rushed 21 times for 105 yards.
Washington scored late in the half on a Darius Dickerson touchdown pass from Josh White.
In the second half, Chandler Schaake rushed for a touchdown with 9:09 to play in the third quarter.
Basehor-Linwood was able to contain White throughout most of the game. White, though, made an acrobatic play on Washington's next possession. He scrambled around, running about 20 yards and then passing the ball to Duone Maxwell for a touchdown.
"He is the best quarterback that we have faced with his legs and arm," Hopkins said.
The play capped a 15-play, 74-yard drive for the Wildcats.
Washington rushed for 136 yards in the game on 25 carries. The Wildcats completed five of 15 passes for 33 yards. Jesse Hiss led Basehor with seven tackles, including two for loss. Chandler King has six tackles with two going loss. Dakota Weber had four tackles in the game.
In the fourth quarter, BLHS scored on a lateral pass to Colin Murphy who threw the ball 30 yards down the field to Ben Zuk for a touchdown.
Maxwell rushed for a 67-yard touchdown with 2:39 left in the game. The extra point attempt was good.
The win snapped a three-game losing streak for the Bobcats. Basehor-Linwood plays Lansing at 7 p.m. Friday. It is a game that has been close in recent years.
"That is always a big game, in the four years we have always played close games with them and its been a heck of a battle every year, let's get over the hump is kind of our theme for the week," Hopkins said.