District 5 Senate challengers stake positions as election nears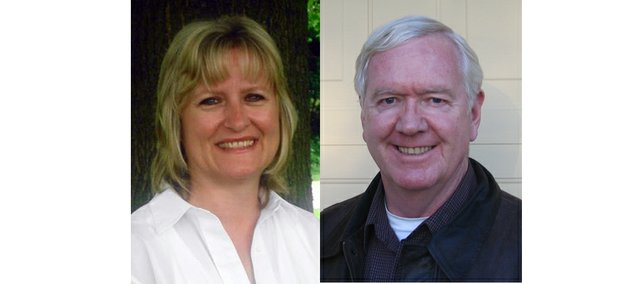 The race for the Kansas Senate 5th District seat had drawn interest even before the Aug. 5, primary election.
That's because both Gov. Kathleen Sebelius and the Kansas Senate Minority Leader Anthony Hensley had endorsed the Democratic candidate, Kelly Kultala,, over three-term Democratic incumbent Mark Gilstrap.
Steve Fitzgerald, a defense analyst based in Leavenworth, is running against Kultala, a Kansas City, Kan., resident and community outreach director for Youthville, a private, nonprofit children's foster agency.
The two candidates' answers to a questionnaire from the Chieftain showed little consensus on some of the most hot-button issues in the state today such as support for a statewide indoor smoking ban in public places to cutting state spending and state interference in Lawrence's registry for same-sex couples.
On the economy and the state's budget, the candidates each offered general prescriptions for reducing spending.
Fitzgerald said he would support "an immediate freeze in state government spending, with very few exceptions."
He also advocated a "review of all state spending using a zero-based budgeting approach. Every state-level spending entity should be required to justify every dollar spent"
Kultala said she liked a plan promoted by the governor.
"I support the initial step that Governor Sebelius has taken by asking all state agencies to reduce their budgets by 2 percent and then I think we need to see what happens with the state revenues over the next several months," Kultala said. "Whatever happens with the stock market and the economy will determine what will need to be done regarding the state budget."
To the question of whether they would support an increase in the cigarette tax to help pay for health coverage for low-income Kansans, Fitzgerald said he would oppose higher tobacco taxes because it "is inappropriate for the state to single out items for special taxes."
Kultala said simply, "Yes."
Asked whether they supported Sebelius' opposition to a proposal for two coal-fired power plants in western Kansas, Kultala said, "I probably would," adding, however, that, "Coal is by far our country's most abundant fossil fuel, and certainly has a place in our energy future," and other, alternative energy sources should be researched.
Fitzgerald called the state's denial of the plants "whimsical and capricious," and said he supports the plants because "it is clear that Kansas needs the economic boost as well as the energy that they would produce."
Fitzgerald said he supported state interference in Lawrence's registry for same-sex couples, because "the action by Lawrence is corrosive of both marriage and of state authority," though he did not explain why.
Kultala said of Lawrence's registry that, "If local governments want to pass this type of an ordinance it's certainly up to them as locally elected officials."
Kultala also said she would support a statewide indoor smoking ban in public places, "but I would probably support exceptions that would include casinos and other locations where children are not allowed."
Fitzgerald, on the other hand, said he would oppose such a measure on property-rights grounds.
"… This is a matter of property rights for the business owners and choices for the patrons," Fitzgerald said. "Having a nonsmoking environment could be a draw for some businesses while allowing smoking could make others popular."