Local firefighters teach safety to children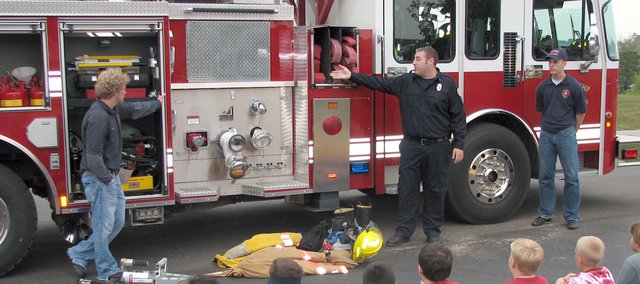 October is Fire Safety Month and Fairmount Township firefighters showed area children this week that it's about more than just "stop, drop and roll."
Students at Glenwood Ridge Elementary School experienced a trio of stations Monday that explained the different aspects of fire safety from how to escape a house fire to learning how some of the tools on a fire truck operate.
"Does your family have a plan if your house catches on fire?" firefighter Ricky Bevell asked.
Bevell said each family should have an escape route and if there's no way to get out of the house, he explained that one should try to get to a window and yell, so firefighters can hear.
"You get your head outside the window, so you can breathe fresh air," he said.
Lt. Kenny Magaha asked students if they had a safe place to meet their parents if they ever needed to escape a fire in their house and encouraged them to set one up if they did not.
"Tonight when you go home, you need to practice a fire drill," he said. "Find one place where you know your mom and dad will be."
At another station, cadet Kyle Savner put on each piece of a firefighter's equipment including an air tank and regulator while firefighter Brooke Theno explained each piece. Theno encouraged the students not to hide from firefighters during a fire even though they might look intimidating with all the equipment on. Afterwards, the students chose one of their teachers to put on the gear.
Outside, students had the opportunity to see the station's ladder truck up close. Firefighter Dave Mellen said that while it might be exciting to see a fire truck come down the street and waving is OK, the students should never run up to the fire truck.
"You know you're going to stop, but we don't," he said.
While wind prevented Mellen and cadets Austin Call and Cole DeRuse from extending the truck's 105-foot ladder, they did go through some of the tools on board from hoses to the jaws of life and a special saw used to cut through any material.
"I can take this and cut a square in the cement 100 times down the street," Mellen said about the saw.
Students were then allowed to walk through the fire truck and treated to a round of lights and sirens.