Scoring surge lifts Bonner past Basehor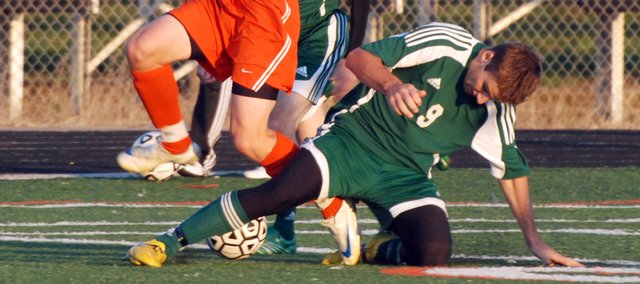 Bonner Springs — For the first 13 minutes Tuesday night the Bonner Springs and Basehor-Linwood boys soccer teams took turns stringing together pass combinations and setting up shots.
Then, during a two-minute span, the Braves asserted complete control over the game with two goals and a blocked penalty kick.
Bonner Springs dominated the rest of the way and won 5-0 at David Jaynes Stadium.
"The team that scores first always gets the momentum, and if you can continue to put it away then it brings the other team down," BSHS coach Mike Moulin said of his team's game-changing offensive surge.
Bonner nearly scored just 30 seconds into the game when Shawn Jones stole the ball as Basehor goalkeeper Ryan Lawless attempted to clear it. Jones passed to Jose Lopez, who flipped the ball to Alex Soto for a shot that Lawless saved.
Two minutes later Basehor unleashed its first shot on goal. During the next 10-plus minutes both teams made aggressive runs at the goal that proved to be fruitless.
That all changed in the 14th minute when Garrett Parker ripped a high shot from 25 yards that clipped Lawless' fingertips and caromed inside the far post for a 1-0 Bonner lead.
Just 40 seconds later the Bobcats had a chance at the equalizer when a foul in the box earned Tanner Bowers a penalty kick. BSHS goalkeeper Ethan Isaacs punched the ball wide, however, and the Braves launched a retaliatory breakaway. Ryan Holcomb fired a pass up to Parker. Parker took a few dribbles and slipped a through ball to Soto whose low blast found the net.
"Amazing … amazing," Moulin said of his team's heads-up play. "That was great, great thought on our team's part. We had numbers and that's what we want. When you get great numbers like that, everybody's down here and it was something like three-on-five, and when you get numbers like that you should put it away and finish."
Despite its strong play in the opening minutes, Basehor was unable to deliver a counter-punch to Bonner's goals. As the pace of the game accelerated on the turf field, the Bobcats were unable to catch up to the speedy Braves.
"Bonner is a very fast team, and even on grass I think they'd be lightning quick, but you throw 'em on turf and it's just a different element that we're not used to and it does complicate things," Basehor coach Kevin Vincent said. "But you can't take anything away from them. They've got a great team this year."
Nine minutes after scoring his first goal, Soto struck again. This time he used a header to redirect a pass from Lopez into the net for a goal.
The Braves' 3-0 lead held up through halftime with minimal threat, and the margin grew soon after the second half began.
Less than three minutes into the second half BSHS found the net again. This time it was Soto returning the favor to Parker. Soto sent a high arching corner kick that Parker headed past Lawless. Just like that it was a 4-0 Bonner lead.
Not even a minute had passed before the Braves netted their final goal of the night. This time Lopez received a pass on the right side. After cutting back, he fired a low pass across the middle that Parker redirected toward the goal. As the ball bounced near the goal line, Lawless snagged the ball, but it appeared to have already broken the plane of the goal. After a brief discussion between referees, the goal was credited to BSHS.
Bonner continued its barrage of shots for a while, but Basehor never let up. The Bobcats continued trying to mount attacks, and they fired about a half-dozen shots during the final 10 minutes. All were to no avail, however.
"We're pretty young, and I think that momentum shifts play a huge role in our success and lack thereof," Vincent said. "Tonight they got those goals and the speed that they have and the talent that they have played against us, but we've got to continue to work hard. We did have some opportunities. We've just got to capitalize on those."
For Basehor, the loss was its seventh straight and third consecutive via shutout. The Bobcats' next chance to break the skid comes at 6 p.m. today when they play host to Lansing (4-5-1).
Meanwhile, the victory put Bonner Springs back on track after a tough loss to Topeka Seaman (9-1) when the Braves played solid for 80 minutes. They return to the pitch at 6 p.m. today at home against Mill Valley. Round one between the league rivals ended in a 0-0 tie.