Lions blast Bobcats, 43-8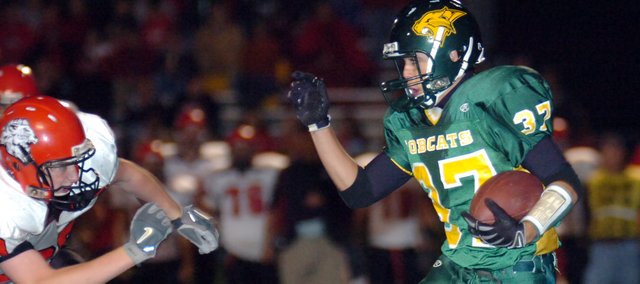 Basehor-Linwood football coach Steve Hopkins knew Lansing had a potent running attack entering Friday's game.
He watched the film and coached his team on what the Lions could do.
He spent an extra day preparing for Lansing's run this week.
"They have a lot of things they do really well," he said entering the game.
While knowing is half the battle, the Bobcats simply didn't have an answer for Brenton Smith and Lansing.
Smith rushed for 135 yards on 24 carries in the game. He had three rushing touchdowns and one receiving, along with a 2-point conversion to lead his team to a 43-8 victory.
"He is a very tough runner and has good vision," Hopkins said. "I hope some of our younger guys watch the way he reads the holes and makes cutback runs."
Lansing won the battle for the line of scrimmage throughout the game. The Lions were able to open up runs with their basic running plays.
"They just physically mauled us," Hopkins said after the game.
Smith, who rushed for 293 yards in the season opener against Piper, was a workhorse for the Lions on Friday against Basehor.
He carried the ball for 106 yards in the first half and two touchdowns as Lansing led 14-8 at halftime.
First half play
Lansing was the first team to drive the football in the game. They drove the ball deep into Basehor-Linwood territory. The Bobcats' Anthony Pearce recorded back-to-back tackles to stall the drive.
He tackled Smith for a loss and then sacked quarterback Cameron Trowbridge on the next play.
With the ball back, Basehor drove the ball 13 plays for 74 yards and a touchdown. Freshman wide receiver Ryan Murphy had three catches for a total of 53 yards on the drive. He finished the game with 103 yards receiving.
Later in the drive, Brandon Leppke scored on a 2-yard touchdown run.
Out of a kicking formation, Kyle Savner threw a pass to Derek Shandy to complete the 2-point conversion.
On the next possession, Smith rushed the football eight times and finished the drive with a 1-yard touchdown run.
Lansing scored again in the second quarter when Smith rushed in for an 8-yard touchdown.
Matt Robbins converted the extra point and Lansing led 14-8.
Basehor's offense struggled for the rest of the half. Leppke, who had completed five-of-nine passes early in the game, missed his next 10 attempts.
Lansing drove the football, but Basehor made plays that stopped them from scoring again in the half.
Pearce forced a fumble late in the half that allowed Basehor to take control on a late possession.
Second half scoring
In the second half Lansing shifted gears and started passing the football with ease. Trowbridge tossed a pair of touchdown passes in the third quarter. The first went to Smith for 40 yards to give Lansing a 20-8 lead.
On Lansing's next drive, Trowbridge connected with Parker Gibson on a 39-yard touchdown.
The Lions led 28-8 and were in control of the game.
On the next drive, Leppke completed a 33-yard pass to Ryan Murphy. Colin Murphy caught a ball in the end zone, but was ruled out of bounds. Basehor failed to convert a fourth down pass.
In the fourth quarter, Lansing drove the football and scored on a Smith 3-yard run.
Lansing scored on its next drive as Trowbridge rushed in for a 20-yard touchdown. Smith rushed in for the 2-point conversion.
Lansing improved to 6-0 on the season. Basehor-Linwood dropped to 2-4 on the year.
Basehor-Linwood opens up district play with a road game at 7 p.m. Friday at Tonganoxie. Lansing begins play in its district at 7 p.m. Friday against Washington.
NOTES
— Brenton Smith led LHS with 135 yards rushing and three touchdowns on 24 carries. He also caught three passes for 55 yards and a touchdown. Smith now has 1,001 yards rushing and 15 touchdowns on 163 carries this season.
— Cameron Trowbridge carried the ball nine times for 83 yards and a touchdown. He also completed nine of 13 passes for 140 yards and two touchdowns.
— Matt Robbins caught four passes for 33 yards.
— Parker Gibson caught two passes for 55 yards and a touchdown.
— Zach Constantino led the LHS defense with nine tackles.
— Parker Gibson had an interception with a 17-yard return.
— The Lions piled up 450 yards of total offense and held Basehor to 188 yards of offense.