Boyda discusses government, politics, life lessons at
BLHS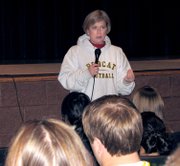 She admits that a few years ago she didn't know how many members there were in the U.S. House of Representatives, but U.S. Congresswoman Nancy Boyda, Democrat serving the 2nd District of Kansas, has come a long way these last few years.
And she says it's all for the sake of making a difference.
Boyda sported a Basehor-Linwood High School Bobcats sweatshirt Friday morning as she chatted with BLHS government students and answered a few questions.
Beginning with her background, Boyda explained that she grew up in the suburbs of St. Louis in an extremely conservative Republican family and later switched to the Democratic Party. She said that while she always voted, she found herself always voting a straight Republican ticket without putting much thought into it because that's the way she was raised. However, she later found some of her beliefs differed from the Republicans platform.
"Democracy takes participation," she said. "You can't just put it on autopilot."
While running for a second term this year, Boyda said visiting and talking with the students is not part of her campaign trail, but something she does "all the time" in an effort to talk to students about government.
She answered students' questions about the war in Iraq, the current financial market turmoil and bailout and her position on abortion.
She said one of the first political things she ever did was protest the Iraq War on the Country Club Plaza in 2002.
"The safety and security of Iraq is very, very important to me, but it doesn't hold a candle to the safety and security of our country," she said.
While you never know where the bottom is, she said, she felt like the financial market was starting to level out. And, she voted against the bailout twice, because she said, financial advisors who came to speak with representatives could not tell her if they even thought a bailout might work. Boyda then used the question to send the students a message about their own personal debt.
"The No. 1 piece of advice I give to my kids is to control your debt," she said. "If you control your debt, you control your own life. If you don't control your debt, somebody else controls your life."
Students applauded her response to a question posed about her stance on abortion rights. She said she doesn't like putting a label on her views on this issue since she doesn't endorse either side, but said she falls in the "pro-choice" category.
"We need to do everything we can to encourage adoption and teach young people how to prevent pregnancy," she said.
Boyda left the students with a message that the country is in transition and it's up to them to make a difference.
"You know that one person can make a difference," she said. "I'm telling each one of you that you have to make a difference."