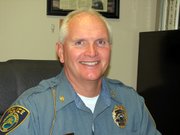 The economy is down and property crimes are up. One of the biggest upsurges in crime across the nation is burglaries and we have even seen an increase in burglaries here in Basehor over the past few months. Some people are becoming desperate and are willing to do whatever is needed to survive.
Most of the reported burglaries involve vehicles that have been left unlocked with valuables inside. We have even had a few stolen vehicles where the keys were reported to have been left in the ignition. It appears that there are some individuals walking around town at all different times of the day and night checking to see if vehicles are unlocked. Once a vehicle is located, the thieves are just opening the door and helping themselves to whatever valuables were left out in the open. Laptops, iPods and fancy cell phones seem to be some of the hot items for thieves. These items are easy to steal, can be used by anyone once in their possession and can easily be pawned for cash.
This is a quick-hit type of crime, meaning the suspects are not spending very much time in committing the burglary and theft. This type of crime can be prevented if citizens would simply start locking their vehicles and taking all valuable personal property inside with them. We also recommend that citizens make sure their homes are secure. With the economy continuing to decline we expect to continue seeing an increase in these types of crimes.
We encourage all citizens to call the police (911 if an emergency or (913) 724-1313) to report any suspicious activity or if they see anyone walking around neighborhoods looking into vehicles.