Power, justice and freedom of voting emphasized
Bonner Springs
NAACP

annual banquet comes 3 weeks before historic presidential election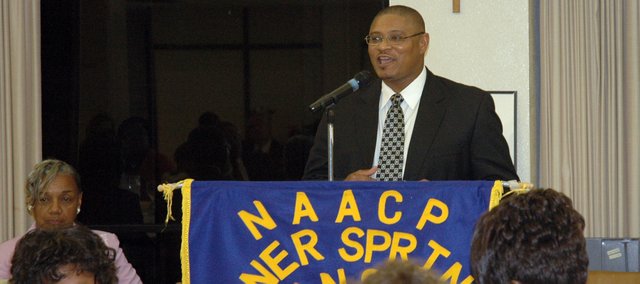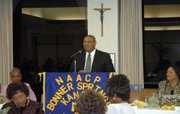 Three weeks before the first U.S. presidential election with an African American as one of the major parties' candidates, the Bonner Springs NAACP celebrated its 51st annual banquet.
The keynote speaker was Reginald Davis, a Kansas City, Kan., attorney who practices law on both sides of the Missouri-Kansas border.
"This is a historic moment," Davis told the room of about 100 people. "Some of us are really excited to vote."
Davis refrained from endorsing either presidential candidate and said, "You don't need a reason to vote, other than this country is falling apart … in economic crises, folks losing their homes, losing their jobs."
In keeping with the banquet's theme of "Power, Justice, Freedom, Vote!" Davis gave a short summary of the history of black enfranchisement and political representation since the Civil War.
Between 1865 and 1880, he said, "there were more African-Americans elected to state and public office than ever in this country … by 1910, all those gains had vanished."
It was after that period, when Reconstruction ended and federal troops left the South that "then began an era of intimidation," Davis said, that included the terrorism of the Ku Klux Klan and the Night Riders.
Southern legislators passed laws preventing African-Americans from voting, including a law barring anyone whose grandfather was a slave from voting, poll taxes and literacy tests.
Today, "never have African-Americans achieved so much," Davis said, in academic success, and having the freedom to choose where they live and which professions to pursue.
"We're standing on the shoulders of those that have went before us. I know that what I have achieved in my life was not freely given," Davis said. "… There's a big difference between fighting for social gains and benefiting from them."
At one point in his speech, Davis said, "sure as I stand here tonight, come Nov. 4, every American is going to vote."
That prediction might sound crazy to anyone familiar with the statistic that roughly 50 percent of Americans qualified to vote have done so in the last few presidential elections.
Davis explained his forecast by saying, "A no-vote is a vote. Certain people are counting on you not to vote."
Bringing that message to bear locally, he said of Kansas City, Kan., there is "a part of town here where things haven't changed much," with potholes in the streets and no development.
"Why? Because most of the people who live in that part of town do not vote," he said.
"Our strategy should be to get the 'sure shots,'" concentrating on getting unregistered family members, co-workers, neighbors and fellow churchgoers to register to vote, and "then make sure they get out and vote come Nov. 4."
After his speech, Davis received a standing ovation from the room.
Preceding Davis' speech and following dinner was a one-man dramatic interpretation by Cedric Saunders, who gave a performance as Frederick Douglass preparing to give an abolitionist speech in Boston.
Also speaking was Charles Jean-Baptiste, president of the Kansas State University NAACP and Mary Kimbrough, president of Bonner springs NAACP.
Alden-Harrington Funeral Home and Anderson & Sons Trucking, Inc. each received a 2008 Prestige Award and local merchants provided door prizes.