Basehor resident dies from crash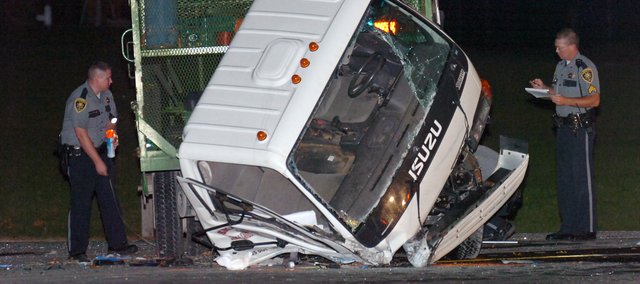 A 22-year-old Basehor man died Saturday from injuries sustained in a two-vehicle accident Friday at 163rd and Leavenworth Road northwest of Basehor.
Richard K. Graham died Saturday at St. Luke's Hospital in Kansas City, Mo.
Witnesses indicated Roy Carey, 60, Leavenworth, was operating a landscaping truck and was stopped at 163rd Street about 8:35 p.m. Friday. Graham was driving west on Leavenworth Road at a high rate of speed, witnesses told the Leavenworth County Sheriff's Office.
Carey said he saw a vehicle's headlights in the distance and thought he had ample time to get through the intersection, reports said.
Graham struck Carey's vehicle on the passenger side, causing the cab to separate from the frame. Carey's vehicle spun and Graham's vehicle continued to travel west, coming to rest on the north side of Leavenworth Road.
Carey was wearing his seatbelt at the time of the crash. Graham was not wearing his seatbelt and was driving with a suspended license, reports said.
Both drivers had to be extricated from their vehicles. Carey was transported by ambulance to Overland Park Regional Medical Center. Graham was taken by air ambulance to St. Lukes. Graham sustained substantial head trauma, while Carey had two compound fractures to his left arm.