To hell and back: One man's journey to God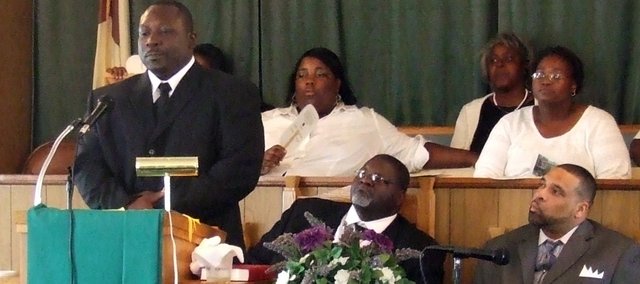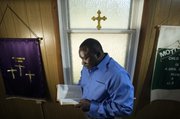 "My wife is dead."
That's all it took for Tyrone Davis' life to change forever.
It was a dark road for Davis from then on out after learning that a drunk driver had killed his wife. He began to unravel and made decisions that quickly turned his life into one problem after the other.
For Davis, one marijuana joint, laced with crack cocaine, is all it took.
"I smoked it and fell in love," he said.
From the death of one love came the birth of another. Davis was hooked and in that instant his life changed forever and his journey to hell and back had begun.
From the loss of a loved one, to the vow to never love again. From the love of crack cocaine, to the vow to love God through all eternity, Davis is a changed man today. After being released from jail four months ago, Davis has pledged his life to help others who have veered off course as well.
The beginning of the end
His life started like that of many young men. There were a few problems in school, a couple of scuffles among peers and experimenting with marijuana. But with one unexpected event, that life would be turned upside down and he would start along a dangerous road that few make it out of alive.
Following the death of his wife, Davis' life became a mixture of one reckless activity and dangerous drug after another. From getting high and then riding his motorcycle 130 miles per hour down Interstate 70 to neglecting his 4-year-old son, Jeremy, Davis said he was living the high life, but somehow not really living at all.
"All I was doing was running from the pain," he said. "I believe that during those times, I was at some of the darkest moments in my life."
Slowly the pain was numbed, whether from the drugs or just the passing of time, but Davis found someone that made him want to love again.
Her name was Carmen Hernandez and the moment Davis saw her in a picture, he knew she was someone he had to meet. As Davis describes, Carmen was just as "crazy" as he was and a relationship started to form. Although Carmen became a big part of his life and that of his son, he still had his doubts. Eventually Davis' icy exterior began to break down and he let Carmen into his life.
"This woman wanted to love me but I didn't want to love her back," Davis said of his fear of being devastated by loss once again. "She was there to put my son on the bus to his first day of public school and she's been there ever since then."
Despite marrying Carmen and having three more children, — Cameron, Tyra and Asia —Davis had a hard time slowing down his deviant behavior, which included getting into an altercation that got him shot in the bicep.
"(Carmen) would come to the dope houses and get me out," Davis said. "She didn't like it but she wouldn't leave me because of the love she had for my son. She just stood beside me. I would wonder, 'Why does this woman keep standing beside me?' I thank God she didn't leave."
One step too far
All those criminal actions were overshadowed, however, one night during a drug deal gone wrong that would eventually get Davis locked up.
It happened one night in the house of his regular drug dealer in Bonner Springs. Davis would trade construction work for discounted drug prices. After a night of drinking, Davis was ready to collect his drugs and head on his way.
The dealer told him to take an amount off the table and Davis did so. But the dealer thought he took more than he was supposed to. A gun was pulled and Davis reacted by hitting the man three or four times. He left the house hoping to put the incident behind him.
In the following days, Davis said heard rumors about the dealer being jumped and robbed and that the police were looking for a suspect. In hopes of setting the record straight, Davis said he went to the police station to tell them what happened.
Two days after his interview with the police, Davis was arrested for aggravated battery with intent to do bodily harm. Davis' victim died shortly after, but Davis was never charged with murder because Davis said the state coroner would not testify in court that it was his punches that caused the death.
Davis was put on probation and he decided to make a change. He went to church and asked to be saved, but his heart wasn't in it.
"I was just going through the motions," he said. "I was straddling the fence. I was still doing things but hiding them."
Eventually it caught up with him and Davis was ordered to serve jail time for probation violations.
Finding redemption
Davis was given 18 months in the county jail and during that time his life would take an unexpected turn.
He began spending time with 18- to 20-year-old men who were also locked up.
"The prison system is full of these young men," Davis said. "They have no direction, no life skills, no life experience."
One day, Davis decided to pick up a Bible. He said he began reading, learning and recommitting himself to Jesus Christ.
"I'd tried everything else there was for me to try in this world," he said. "At one point I was worth over three quarters of a million dollars. I had women, money, drugs. I had everything there was pleasurable to the flesh and that there is to desire and it has done me no good but to want even more."
Davis said his time was up, and that it was God's turn to deal with him and show him his path. He began reading to and speaking with other inmates about Bible passages. He said he felt like he was giving back to a world that he had created so many problems for.
Life was changing quickly for Davis as he became more and more involved with his religion. But nothing could have prepared him for what was to come.
While at the Norton, Kan., penitentiary, Davis received a phone call from home telling him that his 6-year-old daughter, Asia, was in a coma in the hospital after having two heart attacks.
Davis prayed often for his daughter and during one of those prayers, Davis said God came to him with a message. Davis said he entered another realm and reality disappeared as he listened to God speak.
"At that moment my life not only on the outside but internally had been changed," he said. "I was there with the presence of God and he had my daughter. He enlightened me and he revealed to me that my daughter will be OK."
Also in his vision, Davis said God told him to return to Bonner Springs and help change any man's life whom he comes in contact with and is in need of guidance.
Davis' daughter recovered and for his remaining time in jail, he devoted himself to becoming God's servant.
Future plans to help others
It has been four months since Davis was released, but already he's gone full-steam ahead following through with the visions he said God gave him.
He now preaches at Olivet Church of God, 201 Springdale St., on a regular basis.
"I have found something that I can put my all into that will not do me any harm, therefore I have that peace in life now," he said.
Life certainly isn't easy for the Davis family, however. Davis, his wife and their three children live with his mother. The family shares one room and sleeps together in one bed. Davis said that he knows the future will get better.
In the short time since his release, he has also started his own construction business. Davis now hopes to use his business to help others like him. After leaving the penitentiary, Davis said it's hard to get other people's trust. He wants to change that and give young men a second opportunity.
"I plan to make my business part of my ministry, and my ministry part of my business," he said. "I will employ men that have troubled lives, done drugs and men seeking God but aren't there yet to accept him."
Davis said he also wants to look into starting a youth program at Olivet. He said children out there who don't have fathers or mentors can come to Olivet and he'll give them love and guidance and ask nothing in return.
Davis said he had gone as far as he could through human efforts. He went through the drug programs and he played the game and faked his way to becoming a "successful" alumnus. What it came down to, Davis said, was making a change internally.
As his life moves forward, Davis said he believed he is heading into the best years of his life.
"I have experienced it all. I've been through the fire. I've done the drugs, gambled, had women, got in fights. People have called me a murderer, a liar, a thief and a cheat. I've done it all and lived at the top and I've lived at the bottom," he said. "Am I happy about what I did in life? Do I regret it? I don't smile about it but it is what it is. I can tell you one thing though, and that is you can always change your life for the better."