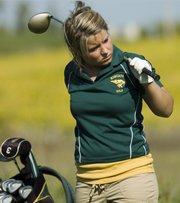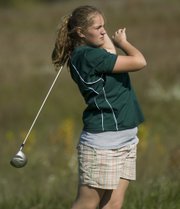 Playing in a tournament field that included some of the top players in the state from the 2007 Class 4A state meet, as well as players who have qualified for this year's Class 5A state meet, the Basehor-Linwood girls golf team competed on Thursday at the Bobcat Invitational.
Topeka Hayden landed five players in the top 10, including the top three spots. Lauren Falley — the third-place medalist at the 2007 state meet in 4A — was the tournament champion with a round of 77 at Falcon Lakes. Brooke LaRue was second with a 78, and Morgan Trobough, another 4A state medalist last year, was third with an 81.
Ashley Clayton was the top Basehor-Linwood performer. She fired a 110 and placed 17th overall.
The tough competition served as a final tune-up for the Bobcats before the Class 4A regional tournament.
"I think we had some relatively solid performances," BLHS coach Ben Chapman said. "Unfortunately we were without our No. 2 golfer, Morgan Richardson. We are hoping to have her back for regionals."
Originally slated for Monday, the regional tournament at Clay Center was pushed back to 8 a.m. today after thunderstorms soaked the course on Monday. Other teams at regionals will be Concordia, De Soto, Piper, Jefferson County West, Perry-Lecompton and Hayden. The top three teams at regionals advance to state, as do the top five individual finishers not on a qualifying team.
The exposure to Hayden and the combined De Soto-Mill Valley squad (Mill Valley played in the 5A regional on Monday) at the Bobcat Invitational gave the Bobcats an idea of what to expect at regionals.
Hayden dominated as a team as its top four performers shot under 90.
The Bobcats have made progress throughout the season, and Thursday was no different. In addition to Clayton's 110, Nicole Vasquez shot a 125 and finished 23rd, Amanda O'Bryan was 24th with a 126, Chantal Williams was 31st with a 132 and Rachel Van Fleet finished 38th with a 142.
JUNIOR VARSITY GOLF
The BLHS junior varsity squad played in the West Franklin 9-hole JV Tournament on Friday at Lamont Hills. Three Bobcat golfers competed and all placed in the top 10.
Marissa Dove finished third with a 57, Samantha Espinoza was ninth with a 72 and Kaitlyn Brandt finished 10th with a 77.