Craig's unbeaten season continues
LHS

junior repeats as league champion; Lansing girls defend

KVL

crown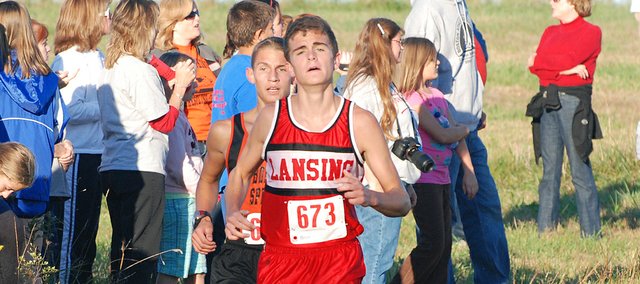 Photo Gallery
KVL cross country championships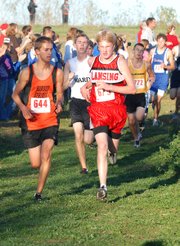 Tonganoxie — Last year Brandon Craig made a late surge into first place and won the Kaw Valley League cross country title.
This time Craig got the surge out of the way early. The Lansing High junior darted from the pack at the opening gun. Bonner Springs' Brooks Ballou went with him for the first half mile. After that Craig was on his own as he scorched the course at Tonganoxie Middle School, winning in a career best 5K time of 15:43 on Thursday. Ballou was a distant second in 16:23.
"Mostly I just try to see how the competition is for the first mile, and that pretty much is what gauges my race," said Craig, who covered the first mile Thursday in 4:49. "If I have to speed up then I'll speed up."
For Craig, the victory kept his season-long unbeaten streak intact. He admitted the time — and the win — surprised him a bit.
"I didn't even know if I was going to win it," he said. "My legs when I was walking up stairs, they were so heavy. I did not feel like I was going to do well today."
From the opening strides of the race he left no doubt who would win. That has become a common theme this year, but it has built up over time.
Craig's potential was evident when he burst on the scene as a freshman, but Craig was held out from his first league meet after missing practice. He came back a week later and qualified for state, and he's been all business ever since.
As a sophomore he was the league champion, placed 15th at state and went on to medal in the 1,600 and 3,200 at the state track meet last spring.
After a hard summer of training, he literally has been unbeatable this season with marquee victories at the Rim Rock Farm Classic and the Community America Invitational in Baldwin to his credit.
Craig said he's very confident in his abilities now, but he said his coaches deserve the credit for helping him understand his potential.
"I just do what Mr. (Errol) Logue and Mrs. (Melanie) Enneking tell me to do," he said. "I just do what they tell me to do. It's mostly them, and just my confidence."
Sophomore Pete LaMoe joined Craig in the top 10, finishing seventh in 17:01. The duo helped the Lions finish sixth with 122 points. Santa Fe Trail won the KVL championship with 55 points, Mill Valley was second with 61 and Bonner Springs had 90.
Also for LHS, Greg Bremser finished 24th in 18:06, Ezra Carpenter was 41st in 18:45, Scott Moore was 53rd in 19:41, Wes Appleget was 54th in 20:08 and Michael Hornick was 55th in 20:10.
As dominant as Craig was in the boys race, the Lansing High girls were equally solid as a group. They won their second straight league championship despite having a few varsity regulars out with injuries. The Lions won the KVL crown with 36 points. Mill Valley was the runner-up with 70.
Junior Lauren Jaqua was the league runner-up in 15:40, finishing second for the second straight year behind Perry-Lecompton's Katie Hirsch who won in 15:28.
Julia Beemer, a freshman, took third in 16:02, and junior Julia Winkler also cracked the top 10 by finishing eighth in 16:19.
Junior Kate Meara was 12th in 16:47 and freshman Maggie Hornick was 15th in 16:58.
Also for LHS, freshman Amy Redden finished 18th in 17:12 and junior Melanie Pilkington was 19th in 17:16.