Election workers get refreshed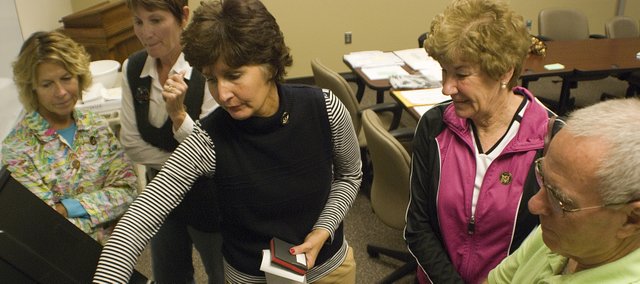 Jeanie Williams stands around a group of poll workers as Janet Klasinski, Leavenworth County Deputy Clerk, demonstrates how to use the electronic voting machine.
Williams doesn't remember exactly how many elections she's worked in, but she wanted to make sure she was up to date on running a 21st Century election.
"It is stressful, but it kind feels like it's your civic duty," the Tonganoxie woman said about working at an election.
With only 13 days left until election time, Leavenworth County polls are getting ready for what could be the county's largest voter turnout.
Linda Scheer, Leavenworth County Clerk, and Janet Klasinski, the deputy clerk, have been holding two classes each day this week, and one next week, to make sure the more than 200 election workers are ready for Nov. 4.
Like Williams, many of the 20 poll workers in Monday afternoon's class have already participated in an election and are there to make sure they are fully aware of how the day will play out. And also like Williams, many of the poll workers are retired and have voted using paper ballots for most of their lives.
Before the election they needed to be sure they are comfortable using the electronic voting machines, which were not used in the 2004 general election.
"We lost a lot of the older workers in 2006 when the new voting machines came out," Klasinski said. "But we gained a lot of fun young ones."
This transition is one of the reasons Debbie Breuer continues to work the long hours of an election. She also feels that technology has driven away some of the older poll workers leavening a gap in volunteers.
"Somebody has to come forward and relieve some of the women that have been doing this for years," she said. "They are good people and are respected. It's kind of an honor to be doing this. "
Klasinski took extra time to make sure she answered all of the questions poll workers had about the machines because the clerk's office is heavily emphasizing that voters of all ages use the electronic voting machines even though paper ballots are still an option.
Williams agreed that older voters are intimidated by the new machines, but they can get used to them.
This is also the first year that teenagers as young as 16 can work at the stations.
Klasinski said that the high school volunteers have been very excited to work during the election and many of them want to volunteer again. She added that the teenagers find it easy to use the machines and are able to work the long hours without getting as tired.