Another big day for Peterson
Photo Gallery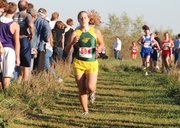 BLHS cross country at KVL Championships
The rivalry continued on Thursday between the Basehor-Linwood and Tonganoxie cross country teams at the Kaw Valley League Championships.
In the girls' team standings, the schools ended up tied for third. That meant the top finishing sixth runner would determine which team placed third, and Tonganoxie won the tiebreaker.
While BLHS coach Jeff Venema would have liked for his team to defeat Tonganoxie, he was pleased that his team placed fourth.
"That is a very good effort," he said. "We ran on their course (at Tonganoxie) and ran really well. I was really pleased with that performance."
Lansing won the girls race for the second straight year and Mill Valley finished in second place.
Individually, Kayla Peterson led the way. Fresh off of a first-place finish at the Pleasant Ridge Invitational, Peterson battled through a tougher field of competition and placed ninth in 16:26 on the 4K course. Perry-Lecompton's Katie Hirsch repeated as league champion, winning in 15:28. Lansing's Lauren Jaqua was the KVL runner-up for the second straight year as she finished in 15:40.
By placing in the top 10, Peterson was named to the All-Kaw Valley League first team.
Brooke Redmond finished in 11th place in 16:47 and garnered All-KVL second team honors. Megan Rehm finished 22nd in 17:26 and earned All-KVL honorable mention status.
The Bobcats ran without Hannah Tush, who missed the race with an injury.
"Running without one of our top runners and managing to place that high in the league — in a very good cross country league — was a very nice thing to see," Venema said.
Basehor-Linwood competes on Saturday at the Class 4A regional meet at Wyandotte County Park. The girls race is at 3 p.m. and the boys run at 4 p.m. The top three teams qualify for state and the top five individuals from non-state qualifying teams also advance to state.
Other teams at the regional include Baldwin, De Soto, Eudora, Bishop Ward, Piper, Sumner Academy, Prairie View, St. James Academy, Louisburg, Osawatomie, Ottawa, Paola, Spring Hill and Tonganoxie.
The Wyandotte County Park course also serves as Basehor-Linwood's home course, which could lead to lower times for the team.
"We feel like we have a chance to put on a strong performance," Venema said. "It is there for us, we are certainly in the mix. Our regional has got the first and second rated teams in the state, which leaves us fighting for third with all the rest of the teams. We feel that spot is just as much ours to fight for as anybody else's; we will see how we do."
Boys Results
The Santa Fe Trail boys won the league title, edging runner-up Mill Valley by six points. Basehor-Linwood placed eighth.
Brady Blackwood led the way with a 30th-place finish in 18:17. Also for BLHS, Bryce Garver was 43rd in 18:53, Michael Torrez was 45th in 19:06, Wyatt Kelly was 47th in 19:09, Rob Peterson was 51st in 19:35 and Brad Waterman was 56th in 20:11.
Lansing's Brandon Craig won his second straight KVL title, covering the 5K course in 15:43.
Kelly was one of Basehor's top competitors, knocking 31 seconds off his previous best time this year.
"He ran really well at the meet," Venema said. "He ran his best race of the year and really helped the team."
Venema said a lot of the runners turned in their best times of the season.
"The individual times were as good as they have been all year," Venema said. "The improvement has been significant, but they are young and have not got caught up to the rest of the league yet."