Bobcats burst past
THS

in district opener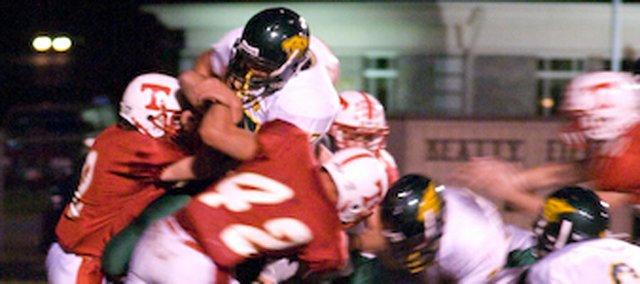 Tonganoxie — Behind a stingy defense and the play of quarterback Brandon Leppke, Basehor-Linwood took a step toward the Class 4A football state playoffs on Friday night with a 38-15 win over Tonganoxie.
The significance of the victory was not lost on coach Steve Hopkins.
"It is real important, in districts you start that real season and it is key to get that first win," Hopkins said. "We are real pleased."
The second season started with a 4A opponent after Basehor-Linwood had played consecutive games against Class 5A opponents.
After being blown out by undefeated Lansing a week earlier, Basehor-Linwood rebounded against Tonganoxie.
After falling behind early, Basehor-Linwood scored 35 unanswered points and took control of the game.
The Bobcats scored in the first quarter with a 21-yard field goal from Kyle Savner in the first quarter. The field goal followed a THS fumble on a high snap that the Bobcats recovered at the THS 8-yard line.
Tonganoxie (4-3) responded with an eight-play, 79-yard drive that included a 29-yard run by senior quarterback Zack Robinson, a 36-yard run by junior running back Jeremie Maus and a 1-yard score by Robinson put THS ahead.
"The defense had a breakdown on that series," Hopkins said. "They had two option plays where we were not assignment sound. We saw the option develop and made the wrong read. After that drive, the defense did not give them much the rest of the night."
Following that score in the game, BLHS dominated on defense.
The Bobcats recorded 14 tackles for loss, essentially rendering Tonganoxie's offense hapless most of the game.
"A lot of first and 10s turned into fourth and 11-plus," Hopkins said. "Our defense played extremely well."
The Bobcats also forced Tonganoxie to drive the length of the field, with strong play on special teams and good kicks by Savner. Savner's kickoffs were well placed and allowed Basehor-Linwood players to sprint down and cover them.
Leppke scored two touchdowns on the ground and threw for two more for BLHS in the win.
Leppke rushed for a 1-yard touchdown in the second quarter and the score was 10-7 at halftime.
In the third quarter, Leppke rushed for a 30-yard touchdown run with 8:34 to play in the period. Later, he threw a touchdown pass to Steyr Stubenrauch that gave the team a 24-7 lead in the game.
Meanwhile, Tonganoxie's offense struggled to get anything going with three drives of three-and-out to start the half.
In the fourth quarter, Leppke threw a touchdown pass to Colin Murphy. Murphy later entered the game at quarterback and threw a touchdown pass to Logan Ross.
"They invite the passing game to be effective," Hopkins said. "They invite you to throw the ball."
Tonganoxie sophomore running back Tucker Hollingsworth scored on a 10-yard run with just 27 seconds to go to break the Chieftains' 37:50 scoring drought.
Basehor-Linwood looks to take the upper hand in its district when it plays at 7 p.m. Friday at Bishop Ward. Ward defeated Piper 21-14 in overtime in the other district opener.
As his team approaches this week's game against Bishop Ward, Hopkins is focused on building on its defensive performance against Tonganoxie. The Bobcats are also focused on the basics in practice this week.
"Offensively, I think trying to find ourselves in the running game," Hopkins said. "We did not run the way we have to in order to be good in districts. We are going to start over and work on simple blocking fundamentals."