3rd District candidates differ on economy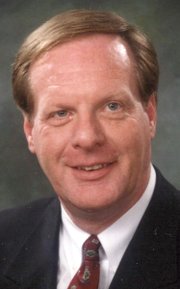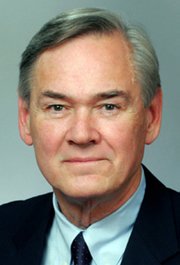 In the race for the 3rd District congressional seat, it's no surprise the U.S. economy is a hot topic.
Incumbent Dennis Moore, a Lenexa Democrat seeking his sixth term, says there's plenty of blame to spread around but insists he'd rather look forward to forging a solution to the troubles plaguing the U.S. and global economies.
In response to a question from the Chieftain, Moore offered his solutions to the nation's economic woes.
Moore said a key step is reducing "the federal debt … providing relief to hard-working families (including efforts to stabilize the current housing market and provide relief through the stimulus package) and developing a comprehensive energy package that will reduce our dependence on foreign oil, lowering gas prices and promoting new industries for American businesses and workers."
Moore's Republican challenger, Nick Jordan of Shawnee, says Congress and Moore are at the root of the sagging economy, and that's where change is needed.
"We need market-driven reforms aimed at the heart of the problem," Jordan said.
"We need to stop Dennis Moore's and Congress' $683 billion tax increase — the largest in American history — so that Kansans can keep more of what they earn in this tough economy. And I will push for an 'all of the above' approach to energy independence to lower energy and gas prices that are killing family and small business budgets," Jordan said in his questionnaire response.
Moore, a former Johnson County district attorney, was first elected to the 3rd District seat in 1998. Jordan, a small-business owner in Shawnee and a state senator, is making his first run for federal office. The district includes eastern Douglas County and Johnson and Wyandotte counties.
The candidates also differ on other issues.
On health care, Jordan advocates removing barriers that prevent individuals from purchasing health insurance, and "market-driven reforms to bring down health care costs and not another failed government program," Jordan said.
Moore says health care must be made more affordable and points to his legislative efforts to encourage the use of electronic medical records as a means of reducing medical errors and administrative costs. Beyond those efforts, though, "We must also care for those who simply cannot take care of themselves, such as children living in poverty, which is why I strongly support the State Children's Health Insurance Program (SCHIP)," Moore said.
• For more of the candidates' answers to questions posed by the Chieftain, go to bonnersprings.com.