County tests drive-by shot system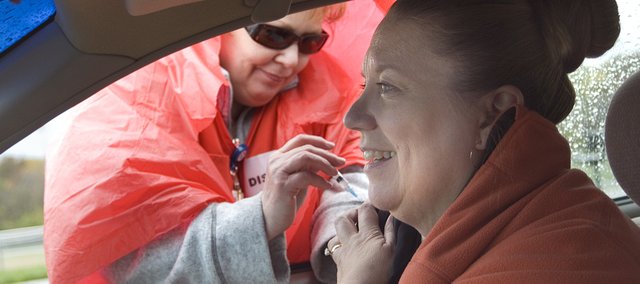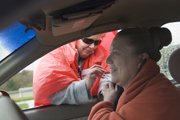 A long line of Leavenworth County residents waited Thursday morning to try the newest drive-through in Leavenworth.
Instead of burgers and fries, though, this drive-though was serving flu shots.
"It's much better than having to wait around to get a shot," said Cathy Adams of Leavenworth.
For the first time ever, the Leavenworth County Health Department participated in a metro-wide program designed to test different departments' abilities to distribute vaccinations on a wide basis while minimizing contact among people.
The goal was to test how a drive-through clinic would work in case mass vaccinations needed to be administered if there were ever some kind of pandemic.
"This type of scenario would help us a great deal if we had a contagious disease," Martin said. "This would help minimize people standing in line with everybody else and help minimize our exposure to people."
In addition to being a collaborative effort between different cities and counties, the clinic also was a collaborative effort between different entities within the county.
On hand to help out were officers from the Leavenworth County Sheriff's Office, the Leavenworth Police Department, staff from St. John's and Cushing hospitals and other county employees and volunteers.
The 10th Avenue Park was the site chosen for the clinic because it would allow easy traffic flow. Vehicles would travel to three different stations to either pick up or drop off forms and to pay before it gets to the vaccine tents.
The whole event was being monitored and timed to see how it was working.
"We are looking for shortfalls in case we had a real event," said Chuck Magaha, Leavenworth County Emergency Management director. "We may not have to improve anything, but there is always room for improvement. The best time to learn is through exercise."
Although the clinic had been in the planning stages for months, the only factor that couldn't be accounted for was the weather.
Temperatures hovered in the low 50s and clouds constantly threatened to open up and start pouring down rain. The weather was good and bad for the organizers. On one hand, it kept them on-guard and they were ready to make adjustments when needed, which was the case when about a half-hour before closing a strong gust of wind sent tents, some equipment and paperwork flying, and sent volunteers out in the drizzle scrambling to recover everything.
On the other hand, cold weather means more people, which gives the department more experience in the drive-through clinic.
"I think weather like this encourages people to come out and get their flu shot," Martin said. "They can see that winter is coming. Last year in Tonganoxie it was a beautiful day, but not a lot of people showed up."
In all, more than 414 shots were administered, with 100 being administered in the first half-hour of the four-hour clinic.
Martin said the average wait time for each vehicle from beginning to end was about 5 minutes.
For more information on flu shots, contact the county Health Department at (913) 250-2000.