Voters hit polling sites as day nears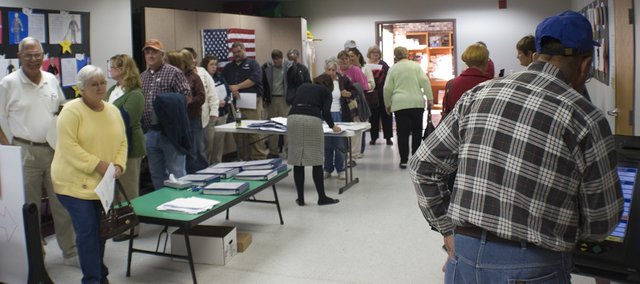 With less than a week left before the 2008 election, some Leavenworth County residents are finding long lines at the polls.
As of Tuesday afternoon, more than 2,870 people have already cast their votes, taking advantage of advanced voting.
Advanced voting has been available at the Leavenworth County Courthouse to all county residents who want to take the trek up to Leavenworth, but the election office made it easier for southern county residents by bringing the polls to them.
Linda Scheer, Leavenworth County Clerk said Tuesday that 280 people took advantage of the satellite polling station Monday at the Tonganoxie Public Library.
The polling station moved Tuesday to the Linwood Community Center and will be open from 1-7 p.m. today at the Basehor Public Library, 1400 158th St.
Once the satellite stations are closed, advanced voting will only be held at the courthouse during regular hours until noon Monday. After that time, voting will have to be done at the registered voter's assigned polling station.
Scheer said the clerk's office has also mailed out more than 2,300 ballots for those who want to vote in advanced by mail. Those voters have until 7 p.m. Tuesday for the clerk's office to receive their ballots them to count.
So far, 43,157 county residents have registered to vote, but Scheer said those numbers haven't been finalized.
In 2004, 40,616 county residents were registered to vote and 27,492 voted.