Bobcats battle back into state playoffs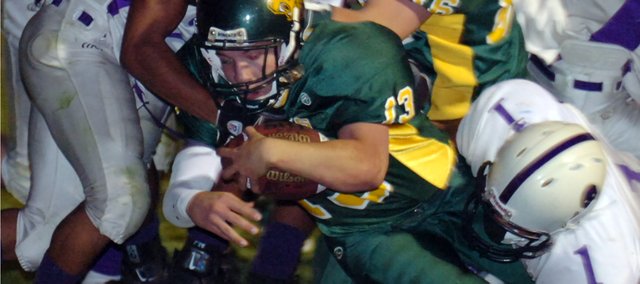 Basehor-Linwood is playoff-bound for the second consecutive season after defeating Piper 7-0 on Thursday at BLHS.
"We got one more than they did; that is all you need," coach Steve Hopkins said to friends and family after the game.
Yes, one drive separated two evenly matched teams. Basehor-Linwood put together a 17-play, 60-yard drive that spanned eight minutes and parts of the third and fourth quarters. On the drive, quarterback Brandon Leppke carried the football seven times. On third down, Piper was whistled for pass interference on a ball that was thrown out of bounds. The Bobcats scored two plays later, culminating with a 1-yard run by Anthony Pierce.
Kyle Savner converted the extra point and the Bobcats led 7-0. That score was all the team would need to qualify for the Class 4A state playoffs. The Bobcats will play Holton at 7 p.m. Tuesday.
Pierce's play potentially gives the Bobcats an answer at running back that they have been looking for throughout the season.
Pierce had begged coaches to let him run the football telling them he could get yards in a varsity game. He clamored for a shot, but the coaches kept the request at a distance in effort.
Then, they started to run five-on-five breakout drills and Pierce showed signs that he could run the football. He kept breaking runs and mentioning the idea of running the football.
Coaches listened and decided to give him a shot. He stayed after practice and learned some of the plays this week.
He also made pivotal plays on defense, including sacks and tackles behind the line of scrimmage. He played a vital role in helping Basehor-Linwood pitch the shutout.
Basehor-Linwood shut down Piper's offense in the second half, allowing a single score to stand up in the victory.
Now, the Bobcats are focused on Tuesday's game against traditional power Holton.
"A great, great job everybody," Hopkins said. "Everybody is 0-0 and the team that wins four games gets to play for the state championships. Nobody has any better chance or advantage, there are no point scenarios. You have got to play and that is it. I don't care that we are playing on the road,that just means you get out of school early."