Halloween frightfully sweet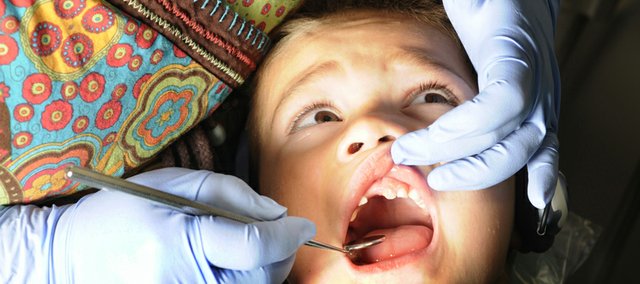 Children love Halloween for two reasons: Costumes and loads of candy.
Soon, their faces and fingers will be covered in chocolatey, gooey treats that they collected by the handfuls on Halloween night.
Even parents like to get in on the action.
According to the National Confectioners Association, 93 percent of children will go trick-or-treating this year and 90 percent of parents will sneak a treat from their kids' goody bags. Both children and parents prefer chocolate over anything else, including healthier alternatives such as pretzels, granola bars or fruit.
Ashton Temple, 12, and her mom, Laurie Temple, of Baldwin City, are no exception. Ashton's favorite candy is Twix, and mom likes Baby Ruth. Ashton said she wouldn't mind some healthy items, but definitely wouldn't want her bag to be filled with them.
This year, Lawrence resident Melissa Frieburger said she won't be handing out raisins because her family called them too "fuddy-duddy." So, she will be distributing mostly chocolate candy.
The average American consumes more than 24 pounds of candy a year, and the U.S. Census Bureau says a sizable portion is eaten around Halloween.
While kids and parents enjoy indulging in the holiday, it can be a health nightmare, according to doctors, school nurses and dentists.
"It's bad for you in a lot of ways. It's empty calories. It's bad for your teeth. It's a poor habit to get kids into," said Dr. Steve Bruner of Lawrence Family Medicine & Obstetrics.
Troublesome for teeth
While several Lawrence health professionals recommend giving children their candy sparingly over time, dentists prefer that children eat as much as they want for a couple of days and then be done.
"What's hard on your teeth is the constant exposure," said Dr. Kelli Henderson, of Growing Smiles Pediatric Dentistry. "Having a little bit every day is far worse than going ahead and having a bunch one night and then brushing really well."
And baby teeth — which children generally have between the ages of 6 months and 12 years — are just as important to take care of as the permanent ones.
Henderson said baby teeth help children develop language skills, maintain a healthy diet and guide the permanent teeth into proper position. She added that baby teeth are more susceptible to cavities because the enamel is thinner. Henderson said she has seen children as young as 1 and 2 years old with cavities.
She advises parents to help brush their children's teeth up to age 8 and to begin flossing their teeth as soon as there are two in contact with each other. She also suggests using a fluoride rinse that will help remineralize weak spots in the enamel.
When a toothbrush isn't available after eating a sugary treat, she recommends children take a big drink of water or chew a piece of sugar-free gum.
Holiday glutton
School nurses often see the results of too much candy, especially this time of year: headaches, bellyaches and vomiting.
"I don't consider gluttony an illness. It's not contagious so they don't get to go home," said Angie Blair, school nurse at Quail Run and Pinckney schools. "I am probably not the nice nurse that everybody wishes they had."
So, how much candy is too much?
"It varies from kid to kid. I am a parent, and I can remember them getting a little green at the gills after eating too much," Bruner said.
"A long time ago, they used to try to get people to quit smoking by just making them smoke so much that they get sick. Maybe that works for sweets, too. I don't know," he said, laughing.