Bobcats go 2-1 at Bonner quad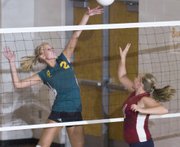 Rival Bonner Springs left the door open, so Basehor-Linwood took the opportunity to come in and take the game and match in volleyball action Tuesday night.
The Bobcats, who lost seven seniors from last year's varsity squad, opened their season at the Bonner Springs quad. Joining BLHS and Bonner in the quad were Baldwin and Eudora.
In the match with Bonner, the Braves nearly had the Bobcats defeated in the first game, leading 22-15. The Braves, however, just could not slam the door on the Bobcats and eventually fell 26-24. With the seven-point turnaround, BLHS smelled blood and took advantage, beating the shaken Bonner squad 25-9 to seal the match.
The Bobcats finished the night with a 2-1 mark, defeating Baldwin but falling to Eudora.
In the first game against Eudora, BLHS fell behind 14-0 before falling. The Bobcats fared better in the second game, but came up on the short end of a 25-23 decision.
On the evening, Eudora went 3-0, Basehor-Linwood finished 2-1, Bonner ended with a 1-2 mark, and Baldwin went 0-3.
Basehor-Linwood's next action is Sept. 13 at the Lansing Invitational.