Bobcats open Friday with
SFT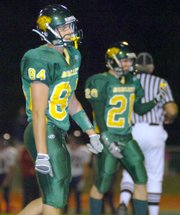 With the season opener to the 2008 high school season less than 48 hours away, the excitement level is building at Basehor-Linwood High School.
Coach Steve Hopkins is studying film of Santa Fe Trail, the Bobcats' opponent in the first game.
He knows Santa Fe Trail has some talented position players, including a talented running back and a couple of wide receivers.
"Other than that we are not sure what to expect," he said.
The game will be Hopkins' first time to coach against Santa Fe Trail. The two schools have exchanged game films from last season. However, teams change from season to season, and Hopkins said he doesn't know what to expect from Santa Fe Trail.
"So many things can change from year to year," he said.
The Bobcats have made a few changes for the new season. Basehor-Linwood is playing a 3-5 defense this season, with five linebackers on the field.
The switch in defensive sets serves two purposes, both of which revolve around necessity.
First, a lot of the players who comprised Basehor-Linwood's size in the past season have graduated, namely Jacob Schierbaum and Ethan Douglass who are both playing college football. Currently, Basehor-Linwood has more players who are a mix between a linebacker and defensive back position.
The defense puts more players in positions to succeed.
Second, the Bobcats are adapting to the competition they will face in the Kaw Valley League.
Basehor-Linwood will play against a lot of talented running backs this season like Jonathan and Jeremy Walker of Bonner Springs and Nicholas Woods of Mill Valley.
The Bobcats want to be faster.
"We don't have much choice, we have to spread things out and put speed on the field," Hopkins said.
Basehor-Linwood football fans caught a glimpse of the defense during last week's meet-and-greet fall scrimmage at the high school.
Hopkins and his coaching staff shuttled in different sets of players, attempting to get film of every player on film to evaluate on defense.
After watching game film, he was happy with his defense's performance.
"We were real pleased with our defense to be honest," he said. "It is a brand-new defense."
On offense, Basehor-Linwood worked a lot on its passing game. Throughout the scrimmage, Basehor-Linwood third-year starter Brandon Leppke made nice throws to Basehor-Linwood receivers, including Ben Zuk, who made several catches.
"I thought Brandon Leppke played really well, he made some good throws," Hopkins said. "He made some great decisions.
Hopkins also likes the number of kids who can catch the football on this year's team.
"We feel like we have different kids that can catch the ball and play wide receiver," he said.
He is pleased that he will not have to take his team, which has younger players vying for playing time, on an hour-long road trip to start the season against Santa Fe Trail, a relatively unknown opponent.
As with last year's season opener, the game also will be the first of three games Hopkins said he hopes to use in order to evaluate his players' capabilities.
"I feel like after three weeks we will know who is good and who we have to replace," Hopkins said. "I think we can be good by district play. We will take our lumps early and learn on the field."
Following the game against Santa Fe Trail, Basehor-Linwood plays Bonner Springs, Mill Valley, Turner Washington and Lansing before beginning district play.