New bar and grill prepares to open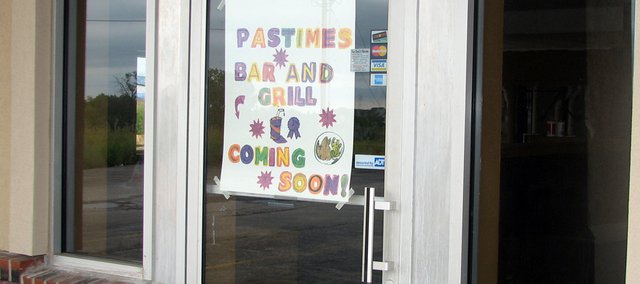 Basehor residents will soon be able to enjoy breakfast, lunch and dinner closer to home.
Pastimes Grill and Bar will open its doors in Basehor within the next two months at 15510 State Ave., No. 11, in the old Simple Simon's Pizza location. Owner JoAnn Yazel moved from Basehor to Weston, Mo., to start the restaurant in 1993.
"I had a beauty shop in Basehor for 20 years and decided I wanted to do something different one day," she said. "I knew some people up here that were in the restaurant business. I thought I wanted to try it and 15 years later, I'm still here. I guess it must have worked."
Yazel's main reason for moving the restaurant to Basehor is to be close to her family. Her son, daughter, grandchildren and several other family members and friends live in Basehor or nearby and the restaurant will become a family affair in its new location. She said she's wanted to move the restaurant for a while and has been looking for a location in the area for about a year. The new location is larger than the one in Weston and she said she will probably be able to seat about 80 people, compared to the 50-person capacity at her current location.
"My son and daughter-in-law and my daughter have all been in this together," she said. "I think I'll have more help out there with family being around."
Fresh ingredients, hand-breaded dishes and very few frozen items make up the menu and all three meals will be served seven days a week. Breakfast is set to start at 7 a.m. in the beginning with hopes to eventually open an hour earlier depending on the response from the community. Yazel said she'll shoot for an 11 p.m. closing time. While alcohol will be served, she said she wants it to be a family place and more of a grill rather than a bar.
"I just want it to be a nice family restaurant, everyone welcome," she said. "A good place for people to go and talk and have a meal together."
A Nov. 1 opening is planned for the restaurant and a grand opening will follow soon after. Yazel said faithful customers travel a long way to visit Pastimes in Weston everyday and she hopes the same response will follow her to Basehor.
"I'm excited to come," she said. "I can't wait to get back down there."