Volunteers ask recyclers to follow rules closely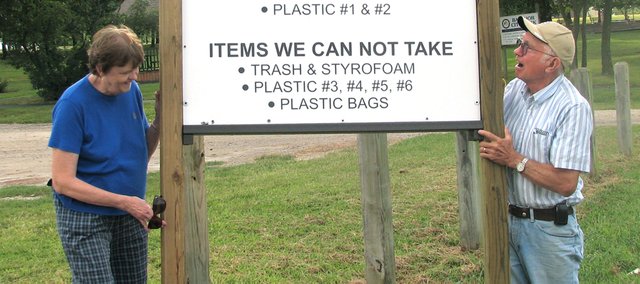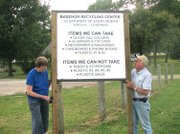 Basehor residents might notice a large white sign when they drop off their recycling this Saturday at City Park.
The new addition to the area is the Basehor PRIDE and Park Association's effort to educate residents on the materials accepted at the drop-off point as well as the hours in hopes that the center's policies will be more closely observed in the future.
"PRIDE has been in charge of getting volunteer help unloading things from cars," PRIDE president Chuck Wilderson said. "The response seems like it's growing all the time."
The recycling drop-off service, which has been available in Basehor at various locations for about 12 years, has been organized by the Basehor PRIDE group for the past 10 years and is operated entirely by volunteers. A different organization such as Girl Scouts, Boy Scouts, church groups and environmental clubs are called on to help man the center on the first Saturday of each month by helping residents carry recyclables from their vehicles to the correct receptacles. Wilderson and Park Association member Judy Goens said the service probably wouldn't exist if it weren't for the volunteers and they are concerned that the service is sometimes abused.
Only certain recyclable materials are accepted at the site between 9 a.m. and noon on the first Saturday of the month and residents are asked to sort the materials. Yet volunteers often find trash dumped at the site and mixed bags of recyclables waiting for them at the gate before 9 a.m. Some have even encountered angry residents who are upset when they find out certain materials are not accepted.
"It's volunteer help," Goens said. "They shouldn't have to take their time to sort out people's trash."
The simple service allows residents to drop off their basic recyclables such as glass, aluminum and tin cans, newspapers, magazines, plastic, cardboard and phone books rather than driving out of town to a recycling center. The Leavenworth County Transfer Station in Lansing delivers and hauls away the receptacles at the Basehor drop-off center and later distributes each material to different vendors or recycling plants in the area.
Large specialty items such as scrap metal, appliances and car batteries have never been accepted at the Basehor site and need to be taken to the transfer station on an individual basis. However, one of the recent changes in the type of materials the Basehor drop off point will take is the type of plastic. Only No. 1 and No. 2 plastics will now be accepted, which excludes Nos. 3, 4, 5 and 6.
Jason Auvil, director of the Leavenworth County Transfer Station, said the reason for the selectiveness is because No. 1 and No. 2 plastics are more readily recyclable because of their make up.
"Where we take the materials to be recycled, they only accept No. 1 and No. 2 because those are the easiest to recycle," Auvil said. "Once plastic is recycled, it can only be further made into a lower grade of plastic."
While No. 1 and No. 2 plastics can be recycled and later become rope, car bumpers, furniture and more plastic bottles, other grades of plastic, such as Styrofoam and plastic pipes, cannot.
The type of plastic is clearly marked on the bottom of most containers, Auvil said, but a good rule of thumb to remember is that most plastic containers with a neck, such as soda bottles, milk jugs and detergent bottles are usually No. 1 or No. 2 plastic.
"It might take a couple three months to get people used to it," Wilderson said.
Wilderson and Goens said they want people to utilize the recycling center, but they also want those who use it to respect it along with the volunteers that donate their time each month.
"There's a big push for green, so it's timely to encourage people to recycle," Wilderson said. "For the most part people do abide by the hours and sort their stuff, but there's always somebody that gives you a headache."
For more information about recyclables, contact the Leavenworth County Transfer Station, 136 Gilman, Lansing, at (913) 727-2858.