Former B-L teacher ready for some football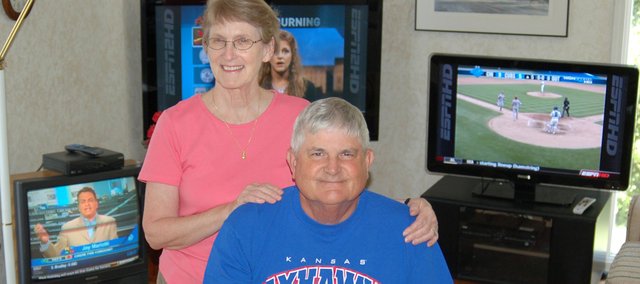 September 21, 1970, is a day that forever changed professional football. It was the NFL's first "Monday Night Football" game and for Chris Anderson, the hook had been set.
Anderson watched from his rural home near Basehor, and he's been watching ever since.
"Great game," remembers Anderson. "Joe Namath versus Cleveland and Keith Jackson was the announcer and we watched on a little tiny TV. The year before they had kind of a precursor game, the Cardinals and someone on Halloween."
In those 37 years since, Anderson has never missed a "Monday Night" game. "I've missed some pieces of games. One night I had to go to a high school playoff game and got in during the middle of the second quarter. Another time, we missed a flight out of Lexington, Ky., and got in on the start of the second half."
An admitted football addict, watching one game isn't enough. He has three television sets 50- and 42-inch plasmas and a smaller set in his living room where the NFL Sunday Ticket makes it possible for him to watch three games at a time and switch to other games during commercials and half times - something at which he's become very adept.
On fall Saturdays, college football fills the screens; the Full Court package offers countless college basketball games in the winter along with NBA basketball and NHL hockey whenever available.
But don't get the idea Anderson is a couch potato. He's anything but. Retired in 1996 after teaching high school American and world history, american government, civics, economics, sociology and driver's education for 31 years at Basehor-Linwood, he and wife Marilyn have had Kansas City Chiefs season tickets since 1990. They also have season football tickets to their alma mater, the Kansas University, and this year basked in a season Anderson says is a "once in a lifetime" occurrence as the Jayhawks defeated Virginia Tech in the Orange Bowl and the basketball team won the national championship.
Frequent movie- and theater-goers, they also have season tickets to the Kansas City Repertory and Unicorn theatres and New Theatre Restaurant and are avid travelers, having made trips to such far-flung places as Australia, New Zealand, Kenya, Egypt, Jordan, Israel, Thailand, Vietnam, Cambodia, Croatia, Russia, France, China, Brazil and Argentina but never in the fall.
"The year we went to Russia, we were going to miss the first week of the college season and then we got a chance to move the trip up a week," remembers Anderson. "We were still going to miss the opening Miami-Florida State game on a Monday night but a hurricane postponed it until Friday and I got to see it."
Some of Anderson's "Monday Night" games were watched in person at Arrowhead Stadium. "One game, the Chiefs beat Oakland in overtime when James Hasty intercepted a pass and ran into the end zone and Marty Schottenheimer jumped on him. Another time, the Chiefs waxed Jim Kelly. They must have sacked him six times, and another time they beat up on Steve Young. And then the Joe Montana pass to Willie Davis just inside the goal line to beat John Elway at Denver still is one of the all-time great games."
Other memorable games include a three-touchdown performance by Baltimore's Joe Washington in the rain; Bo Jackson's big hit on Brian Bosworth; and the longest MNF game on record. "I was in Willamsburg, Va., for a reunion and a Jets' tackle caught the ball for the winning touchdown against Miami at about 1:30 in the morning," remembers Anderson. "Needless to say, everyone else in the motel was asleep.
"There was another Monday night I was in New York and I went to bed and Philly was beating Dallas by nine points with a minute and a half left, and the next morning on "Sports Center" I saw where the Eagles scored on a long pass and then recovered the onside kick and won on a long field goal."
TV executives might want to take note of this: To Anderson, it is the game and not the announcers that is important. " I have never watched a game or didn't watch a game because of an announcer," stresses Anderson. "I don't care who the announcers are. It's no big deal."
With one exception. "I would finish every game no matter how much it was out of hand to listen to what Howard Cosell had to say. He was by far the best analyst and with Don Meredith, they were just outstanding. Howard was so perceptive in that he knew what was going on and said the things that were important. He could also generalize about life or the world or about people. You could always tell he was the smartest guy in the room."
At 67, Anderson is giving no indication of slowing down. This past holiday season, he and Marilyn drove to Miami to watch Kansas beat Virginia Tech in the Orange Bowl. En route, they stopped in Birmingham, Ala., where they watched a New Year's Eve game and then stopped in Ocala, Fla., the next afternoon so they could catch Illinois and USC on television in the Rose Bowl.
The Kansas game on a Thursday night was followed by a stop at Gulfstream Race Track in Hollywood, Fla., and then a drive to Tampa, where they watched in person the New York Giants beat the Buccaneers in the first round of the NFL playoffs, a game that ended early enough they were able to watch the second half of the playoff doubleheader. Headed home, they watched the Ohio State-LSU national championship game in Pensacola.
"But we also did other things," says Marilyn. "We visited a friend in Florida, went to the World War II Museum in New Orleans and the Museum of the Pacific War in Fredericksburg, Texas, and I got to visit my brother in Fredericksburg and my dad in Bartlesville, Okla. We don't want people to think all we do is watch football."
So what would it take to miss a "Monday Night Football" game? "My 101st birthday celebration," says Anderson. "Or maybe a trip to South Africa. That's still on my Bucket List."