Motorcyclist hit twice, dies while in surgery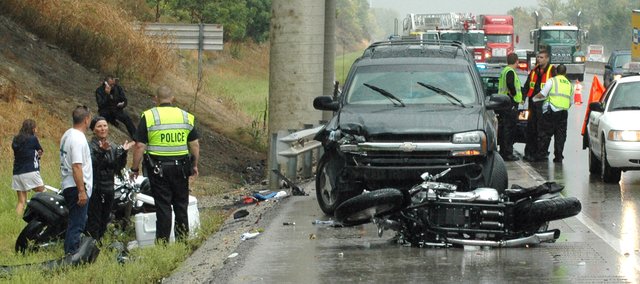 Two accidents in quick succession Tuesday near mile marker 222 on I-70 west of Bonner Springs resulted in the death of a 46-year-old man.
The first accident, around 2:20 p.m. during a heavy rainstorm, was caused by a hydroplaning 1992 Mercury Cougar, driven by Yusufa Kanara, 33, Lawrence. Kanara's car hit Ronald Howard, 46, and Mary Brauner, 48, Topeka, as they sat on their motorcycles on the shoulder under an overpass.
A woman at the scene of the accident said she and her motorcycling companion had stopped to help Howard and Brauner when another vehicle, a 2004 Chevrolet Trailblazer driven by Jamie Randolph, 44, of Lawrence, approached with its brakes locked up, resulting in a second hit to Howard and Brauner.
A Kansas Turnpike Authority dispatcher said Howard later died in surgery at the University of Kansas Hospital. No hometown for Howard was available.
Traffic was backed up for about a mile on both sides in the half hour following the accident.