Kansas Sampler still on for Leavenworth County in 2010, 2011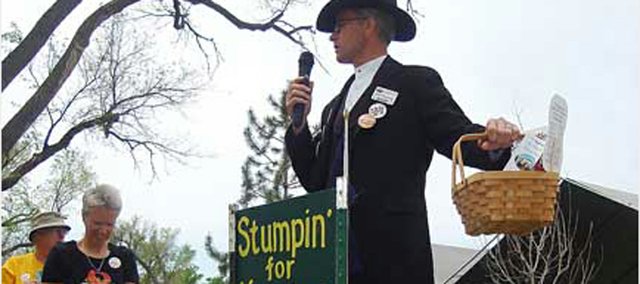 The Kansas Sampler Foundation has announced that Leavenworth County will still remain the home of the Kansas Sampler Festival in 2010 and 2011.
Questions about whether the festival would be held at Ray Miller Park in Leavenworth were raised after the Leavenworth County Commission eliminated the full-time position Keyta Kelly, the county's counselor-at-large.
Kelly was on the steering committee that brought the festival the county, and was chosen to be the festival's director.
"We didn't want to get involved with any personnel issues, but from our vantage point it turned out pretty well," said Marci Penner, the foundation's director.
On Aug. 19, Kelly was informed that her full-time position was being reduced to a 1,000-hour part-time position in 2009. That was the same day the foundation made their final decision. Soon after hearing about reduction in force, the foundation retracted the bid for the event.
The steering committee met on Aug. 29 to discuss options and then presented those options to the county commissioners.
Commissioner J.C. Tellefson, who has been in contact with Penner to keep the festival in town, said some of the options included contracting with Kelly or another member of the steering committee to be the director.
"There are still several logistical matters that need to be worked out in the contract between the Steering Committee and the County, but I have faith that the Commission will see the value of hosting the Kansas Sampler Festival in Leavenworth County, and will make every effort to come to a mutually satisfactory contract," Kelly said in a press release from the foundation announcing its final decision.
On Friday Tellefson said he wasn't sure what option the county would choose, but is confident it would all work out. The position of the festival director was budgeted to pay $17,500 for each year the festival was held.
"I'm looking forward to making this a huge introduction to Leavenworth County," Tellefson said. " I can think of no better place to celebrate the 150th anniversary of Kansas than in the first city of Kansas."