THS

cross country teams fall to Lansing
Jeannin wins girls race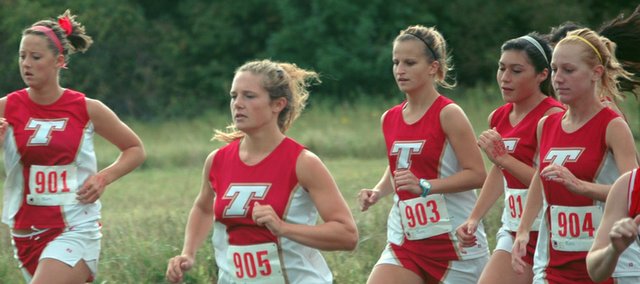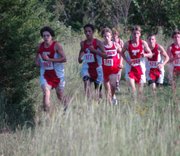 In their season-opening cross country duel with Lansing on Thursday afternoon, the Tonganoxie High girls and boys fell short of team victories.
But Chieftains junior Andie Jeannin won the girls 4-kilometer race with a time of 16:30.
THS senior Matt Brock was the best runner for the boys on Thursday, finishing second with a time of 17:44.
Girls
Team Scores
Lansing - 22
Tonganoxie - 35
Race Results
1. Andie Jeannin, THS, 16:30
2. Melanie Pilkington, LHS, 17:12
3. Mary Kate Meara, LHS, 17:25
4. Julia Winkler, LHS, 17:37
5. Julia Beemer, LHS, 17:47
6. Addy Phelps, THS, 18:08
7. Alex Houk, THS, 18:23
8. Kristen Fowles, LHS, 18:33
9. Kayla Leffert, THS, 18:34
10. April Elkins, LHS, 18:43
11. Megan Hornick, LHS, 19:10
12. Lauren Hall, THS, 19:26
13. Christina Rubio, THS, 19:27
14. Lauren Hiimpel, THS, 19:48
Boys
Team Scores
Lansing - 27
Tonganoxie - 28
Race Results
1. Brandon Craig, LHS, 16:59
2. Matt Brock, THS, 17:44
3. Pete Lamoe, LHS, 17:54
4. David Powell, THS, 18:54
5. Caleb Himpel, THS, 18:55
6. Greg Bremser, LHS, 18:59
7. Dalton Lawson, THS, 19:17
8. Ezra Carpenter, LHS, 19:38
9. Wes Appleget, LHS, 19:42
10. Patrick Rachford, THS, 19:44
11. Joel Dunning, THS, 20:12
12. Tommy Heskett, THS, 20:56
13. Dalton Harrington, THS, 20:57
14. Michael Hornick, LHS, 21:45
15. A.J. Glowacki, LHS, 23:25
16. Matt McCurry, LHS, 24:41