KCK

Police seek murder suspect
Public asked to help locate Nestor Ardon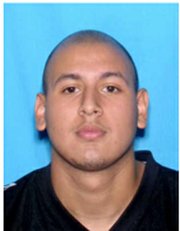 The Kansas City, Kan., Police Department is requesting assistance from the public in locating a murder suspect considered armed and dangerous. Nestor Ardon, 19, is wanted for the Sept. 2 murder of Edgar Lozania-Florez, which occurred at Inner City Oil gas station, 540 S. 10th St. A statement from the KCK Police Department said Ardon is known to have gang affiliations and is believed to be still in the Kansas City metropolitan area. Ardon is 5 feet 6 inches tall, 140 pounds, and has a tattoo of two clowns on his left bicep.
The Wyandotte County District Attorney's office has issued felony warrants for Ardon's arrest for first-degree murder, felon in possession of a firearm, and aiding and abetting. The bond amount has been set at $750,000.
Anyone with information on Ardon's whereabouts is encouraged to call the police at (913) 573-6020 or anonymously to the TIPS Hotline, at 816-474-TIPS (8477).