Bikers coming through Sunday
March of Dimes rally route starts nearby at Kansas Speedway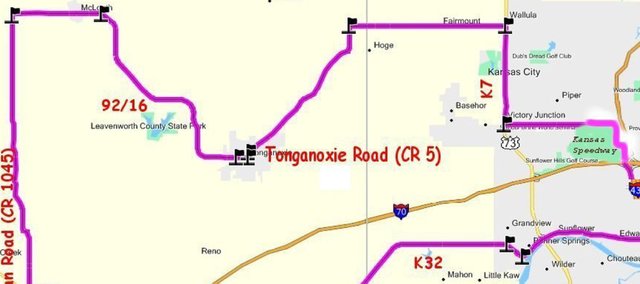 As the largest charity motorcycle ride in the Midwest, this year's March of Dimes Bikers for Babies is sure to impress as an expected 8,000 riders traverse their way through the northeast Kansas area.
The ride is in its 14th year in Kansas City and raised more than $700,000 for March of Dimes last year to help improve and care for the health of area babies. The 2008 ride will be Sunday and is a 79-mile route that starts at Kansas Speedway.
"One in every eight babies are born premature," said Laura Lesko Lewis, state director of communication and marketing for the Kansas March of Dimes. "Even if you don't know someone affected by our mission, you may know someone down the road. We want to help babies because they are the most innocent form of all humanity."
The ride, which started in 1995 with 130 riders, has grown over the years bringing in a total of $3.1 million during its existence. The events cost $35 for pre-registration and $40 the day of the events, and Lewis said all the funds stay local to help area babies throughout the Kansas City area.
This year's ride will start with registration at 8 a.m. and opening ceremonies at 9:15 a.m. at Kansas Speedway and will make a loop passing through Bonner Springs, Edwardsville, Linwood and Tonganoxie before ending back at the Speedway. Riders will be stopping along the route for gas and food and Lewis said she encouraged members of the passing communities to come out and wave as the riders go by.
"It's a big morale boost to see the kids waving," Lewis said. "There is a brotherhood and kinship on this ride. Everyone comes together one day to support one cause."
It is that brotherhood that Lewis said has allowed the ride to become as successful as it is today. She said it's usually "blue-collar riders raising the money," giving a $35 to $40 donation to participate. While that's not a large sum individually, Lewis said the sheer number of riders that work together for the cause is what brings in so much for the March of Dimes.
To prepare for the event, organizers are playing host to pre-registration events to get people signed up for the event. As of Monday, Lewis said 1,770 riders have pre-registered.
There are two remaining pre-registration events before the day of the ride. The first is from 6 p.m. to 9 p.m. Thursday at Stables Grill, Intestate-35 and 92 Highway, in Kearney, Mo. The second event is from 10 a.m. to 2 p.m. Saturday at Worth Harley Davidson North, 6609 N. Oak Trafficway, Kansas City, Mo.
For more information about the March of Dimes Bikers for Babies and to get a map and directions of the ride's route, visit the Web site bikersforbabieskc.org.