Bobcats shine at first home meet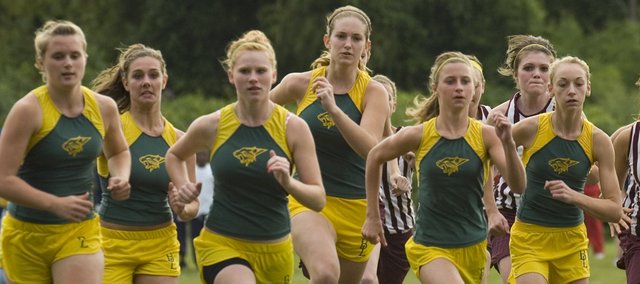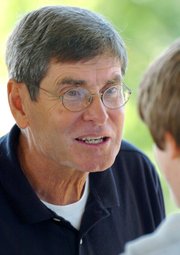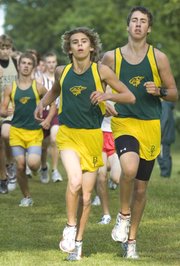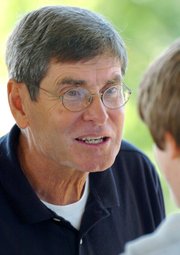 Basehor-Linwood cross country runner Hannah Tush didn't take long to make her presence felt in a varsity meet this season.
The freshman placed second in the Bobcats Cross Country Invitational at Wyandotte County Park on Thursday. Her performance led the Bobcats to a first-place finish with 28 points. Jackson Heights placed second with 41 points.
Hannah was running her latest race in a career that started with her chasing her older sister Megan around area cross country courses. Megan was a two-time state qualifier at Basehor-Linwood, and now Hannah hopes to continue running in those footsteps.
When she started running, Hannah picked it up and has been running ever since that time.
"She has watched her sister all these years and now it is her turn," coach Jeff Venema said. "She has a great attitude and is a good kid to be around. The sky is the limit for her. There is nothing she can't do in this sport."
Last week's run was the first of her high school career and also the first for the Basehor-Linwood Bobcats this season.
In addition to Hannah's performance, Kayla Peterson finished in fourth place with a time of 18:24. Brooke Redmond placed sixth with a time of 18:49. Shelby Miles placed 10th with a time of 19:13. Megan Rehm placed 12th with a time of 19:41. Casey Mahoney placed 17th with a time of 17:34. Hanna Bates placed 24th with a time of 21:09.
"We have one senior on the varsity. We are still working to find our best seven, but I know we will be young," Venema said. "It is encouraging. We had a group of girls that commanded the place for four years who graduated. Now, we have a new crop that might grab hold for several years and not let go. That is fine with me, those are very good kids."
In the boys' varsity race, Basehor-Linwood cross country runner Micheal Torrez placed eighth with a time of 19:21 in the race.
Torrez, a sophomore, is in his first season of running cross country. He is picking up the new sport well this season, Venema said.
"I will bet money that it is the first cross country meet Micheal has ever seen and he comes in eighth," Venema said.
Bryce Garver placed 15th with a time of 20:19, which was seconds in front of Brady Blackwood who placed 16th with a time of 20:22.
"Bryce Garver and Wyatt Kelly have worked hard and are starting to see the fruits of their labor," Venema said.
Wyatt Kelly placed 19th in the race with a time of 20:25. Rob Peterson placed 24th with a time of 20:54 and Alec Shandy placed 25th with a time of 20:54.1.
Silver Lake placed first with 48 points and Jackson Heights placed second with 63 points. Basehor-Linwood's team score was not available.
In addition to the first meet of the season, this also was the first cross country meet that Basehor-Linwood has played host to.
BLHS cross country meet workers passed popsicles out to runners as they crossed the finish lines Thursday.
Later, they offered runners hot dogs, chips and granola bars before awarding medals to each of the winners.
These were the little things Venema had spoken about leading up to the meet.
They also received a positive message from one of the best distance runners in Kansas history, Jim Ryun.
Ryun was on hand to pass out medals to the runners and shared his experiences in running. He spoke about how he wasn't good enough to play other sports, but eventually found a niche in distance running.
He dominated the high school level of cross country and then qualified for the U.S. Olympics where he won a silver medal.
Yet, his message wasn't as much about winning a silver medal as it was about perseverance.
"The kids understood pretty quickly that this was an important guy," Venema said. "I think they realized that this was a special guy and not some dude. I think his athletic ability and his willingness to do things like this meet showed some of the things that made him special."
H also said the message resonates whether it is the 1960s or 2008.
"Finding your way along, but always staying optimistic and working hard, seeing where your strengths lie, a couple of kids saw themselves in other sports and are starting to understand that this is their sport," Venema said.