Grapes of path: Pickers take to fields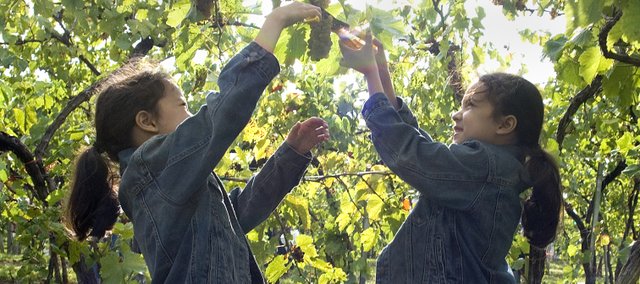 An unusually cool September morning and a vineyard blanketed in a light fog greeted grape harvesters Sunday at Holy-Field Vineyard and Winery in Basehor.
A large group of visitors, each armed with a small pair of clippers, gathered around the gazebo to listen to instructions from co-owner Michelle Meyer on how to properly pick grapes.
The sight is a familiar one each Sunday from about mid-August through September every year as Holy-Field has offered the "Picking Sundays" event to its fans for many seasons. Some volunteers displayed their veteran grape harvester status by wearing T-shirts from years past and Meyer told first timers to look to them for guidance if needed. However, there are only a few simple rules for harvesters to follow when picking the white Vignoles grapes - the variety chosen for this particular Sunday harvest: Look closely and pick all the grapes because even the ones that have started to shrivel on the vine make a contribution. Hold the grapes at the bottom to avoid any cut fingers and ultimately any M.O.G., material other than grapes. Also, don't be afraid to sample a few along the way.
"It's a very popular grape, a very popular wine at Holy-Field," Meyer said about the Vignoles. "Don't discriminate against the ugly grapes and if you hold it at the bottom, you won't be seeing me for a band-aid. If you happen upon a red grape, you're just supposed to eat those."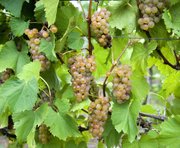 A bountiful year
After the short tutorial, the crowd of about 200 people led by co-owner Les Meyer marched through the vineyard toward the back of the 14 acres, picked up buckets and began to tackle the vines heavy with grape clusters.
Michelle Meyer said the crop is plentiful this year because of the long winter, cool spring and absence of a late freeze, which is always a hazard for Midwestern vineyards.
"Last year we didn't have this volume because of the Easter freeze," she said. "It's exciting to see this much fruit."
Veteran harvester Debbie LeCluyse of Olathe agreed. That same Easter freeze wiped out much of the Melody grape crop that produces Holy-Field's Melody wine - one of LeCluyse's favorite, so she was happy to be busy clipping an abundance of grapes that day.
"There are tons of grapes in here," LeCluyse's friend Joyce Peterson said, picking up a long, gnarled vine.
"They're blessed," LeCluyse said. "The crop looks good this year."
For the love of wine
A group of 13 co-workers along with Peterson's two children, Thomas, 12, and Holly, 10, joined LeCluyse in the harvest.
"Most of us had never done it before and we all like drinking wine, so we said we might as well see how they start all this," Joyce Peterson said.
A few rows away, a group of old friends and family members gathered at the vines like they have for the past four or five years. Mary Bjerke said she and her husband try to make the seven-hour drive down from South Dakota as much as possible to visit their family and friends for the grape harvest.
"We make it a weekend," she said. "We don't make it every year, but we've been probably four years."
Both Bjerke and sister-in-law Shelly Hovey of Overland Park commented on the perfect grape picking weather - not too hot, not too cool and no rain, which they've encountered in the past.
"It's just fun getting into the vines, picking the grapes and seeing what we drink," Hovey said.
Both have a long list of Holy-Field wine they enjoy and Racy Red, Tailgate Red and White and St. Vincent are at the top.
"They're all good," Bjerke said. "They're all extraordinary wine."
"I buy them all," Hovey said.
A family affair
With its simple rules and educational value, parents have found Holy-Field's grape harvest to be a perfect activity for everybody in the family - and a popular one at that. Jana Whitton, Olathe, said she had to plan for the event months in advance.
After seeing the event two years ago in Midwest Living magazine as a different family activity, calling to make reservations and finding out it was already booked, she said she marked it on her calendar to call on July 1 this year to make sure she, her husband Darren and their twin 6-year-old boys, Jake and Jesse, had a spot on this year's harvest crew.
It's a different fall activity," she said. "It's something new for our boys and it's quiet and cool. We also have a farm in Missouri and we're interested in starting a vineyard maybe."
Two-month-old Lukas Stear enjoyed his first grape harvest sound asleep while hanging out in a carrier on father Zeke's chest while dad and mom, Olivia, did most of the work.
The new family just moved to Lawrence from California and was recruited for the harvest crew by friends Eva and Jose Martinez. While they hail from the state that is known for vineyards and wine production, Zeke said this was their first vineyard experience.
"Oddly enough we lived pretty close to vineyards, but never went," he said.
A sweet process
With about 400 hands busily working on the vines, it didn't take long for the vineyard crew to load up a truck with bucketfuls of grapes and head straight to the cellar for pressing.
A loud whirring sound fills the cellar as vineyard workers dump crates full of grapes off the back of the truck and into a machine that crushes the grapes and separates them from the stems. Another worker stands on the other side of the machine and tosses intermittent scoops of rice hulls in with the grapes. Les said the hulls aid in releasing the juice without the added bitterness of the grape skin.
Holding onto a large tube connected to the machine, Les guides the crushed grapes into two large presses and juice immediately begins to pour out of the bottom of the presses and into two smaller containers. The liquid is then pumped into a large barrel where it will stay overnight. The next day, it is pumped into a refrigerated barrel for fermentation at 55 to 60 degrees.
Once the presses are turned on, the juice flows faster and Les dips a device into the stream that tests the sugar. Several samples have been taken from the vineyard in the past couple of weeks to test for sugar and pH, or acidity. If the levels aren't just right, the grapes are not ready to be harvested.
The sweet juice has a sugar level of 24 and Les said it would ferment until the level has reached about four.
"This particular grape will take about three weeks to ferment where we want it," he said.
It takes about 750 pounds of grapes to make 55 gallons of wine and Holy-Field produces about 7,000 gallons of wine annually. An estimated 10,000 pounds of grapes were harvested Sunday, Les said, and the grapes the harvesters picked that day should be bottled and sold starting around Thanksgiving.
"I want to come back in November and drink the wine made from the grapes we picked," Joyce Peterson said. "That's kind of cool."