Kansas line crews helping hurricane relief efforts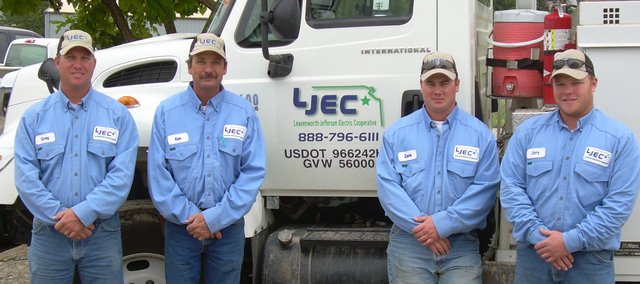 More than 60 volunteer linemen and dozens of trucks from 13 Kansas electric cooperatives including four Leavenworth-Jefferson Electric Cooperative employees and three trucks headed for Louisiana Sept. 5 to assist in recovery efforts from Hurricane Gustav. The four employees are Zane Peak and Jory Adkins, both Tonganoxie, Greg Kramer, Winchester, and Ken Ottensmeier, McLouth. They are joining cooperative crews from around the nation to restore power in some of the worst-hit areas.
The Kansas crews will assist Dixie Electric Membership Corp. (DEMCO), headquartered in Baton Rouge, La. This electric cooperative estimated it had thousands of electric poles damaged or destroyed by the hurricane.
"Hurricane Gustav was more devastating to Louisiana's electric co-ops than Katrina or Rita, primarily because DEMCO, our largest co-op at roughly 100,000 meters serving a seven-parish territory near the Greater Baton Rouge area, reported 100 percent outages with extensive damage to trees, homes and businesses," said Billy Gibson, director of communications for Louisiana Electric Cooperatives.
Gibson said that they are expecting full restoration of their electric system in approximately six weeks.
"We are calling in about 800 co-op linemen and contractors to repair damage," Gibson stated. "We are in the process of constructing a 'tent city' to expedite the restoration process."
The Kansas crews are expected to stay for 14 days and then rotate with a second crew of linemen from the Kansas electric cooperatives.
The line crews are bringing their cots and sleeping bags, and they will be taking their own water and other essential supplies. Many of the linemen gained experience in this type of recovery effort following Hurricane Katrina in 2005.
"We have learned to allow time for sufficient coordination so that our crews can go directly to where they will be of most help," Larry Detwiler, Kansas Electric Cooperative, explained. "It's not cost effective for us to rush down to the affected area only to sit in a motel room."
"Once we arrive, our crews will be ready to go right to work," Detwiler said. "They will hit the ground running."
Electric cooperatives have always offered assistance to neighboring systems and to other states in times of crises.
"The dedication of these linemen is tremendous," Detwiler said. "A lot of these linemen have just come through two of the most devastating ice storms in Kansas cooperative history. Many of these linemen are still working on restoring and rebuilding their own power lines, but they are willing to travel and help with the monumental task of restoring entire power systems that were downed by Hurricane Gustav."