Support for troops, families promised from communities in leaders' pledge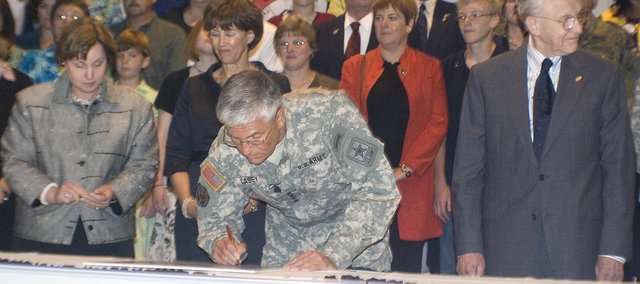 The success of a modern United States soldier does not only come from his high level of training and sophisticated equipment, but the support that he receives from his family and his community.
That was the thinking during Monday's Army Community Covenant signing at the Riverfront Community Center in Leavenworth as leaders from the county and neighboring Platte City, Mo., pledged their continued support of America's military.
"Soldiers draw their strength from their families and draw their strength from the communities," said Gen. George Casey Jr., US Army Chief of Staff, and Monday's VIP at the signing ceremony.
Local leaders, including Leavenworth Mayor Lisa Weakly, Leavenworth County Commission Chairman Clyde Graeber and Fort Leavenworth Commander Lt. Gen. William Caldwell IV, were invited to sign the covenant that pledged the communities' support and commitment to soldiers.
Casey said that the covenant was a key element in restoring balance to the army, which he said has been out of balance and stretched thin.
"The most important thing we can do to put our army back together is to sustain our soldiers," Casey said. "(The covenant) is about a partnership between installations in the community. It's about a partnership with a purpose. Its purpose is to sustain and support our soldiers and their families during a critical period in our country."
As a symbolic gesture of unity, several members of the community read the covenant out loud before it was signed.
The covenant reads: We the community, recognize : the commitment soldiers and their families are making everyday, the strength of soldiers comes from the strength of their families, the strength of families is supported by the strength of the community, the strength of the community comes from the support of employers, educators, civic and business leaders and its citizens. We, the community, are committed to ... building partnerships that support the strengths, resilience and readiness of soldiers and their families, assisting in the implementation of the army family covenant.
Before becoming the Army Chief of Staff, Casey was the commander of the multi-national force in Iraq. In 2007 Casey was replaced by Gen. David Petraeus, former Fort Leavenworth commander as commander in Iraq.