Traveling theater company preps Basehor-Linwood district students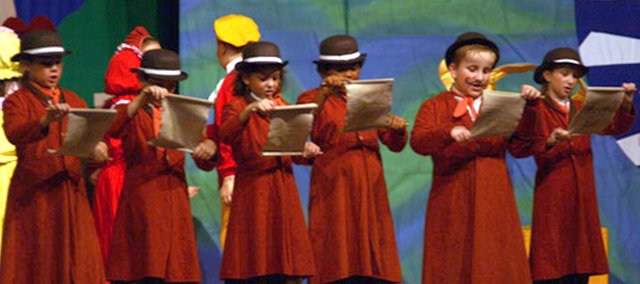 The Missoula Children's Theatre, based in Missoula, Mont., is in town this week working with students in the Basehor-Linwood School District on musical theater. The annual event is sponsored by the Basehor-Linwood Education Foundation.
About 80 kindergarten though 12th grade students auditioned Monday afternoon for this year's production, "The Little Mermaid." Sixty students were cast along with four technical directors.
The young actors and actresses will learn songs, lines and dances during daily four-hour practices this week and will then perform a full production complete with costumes, make-up and sets at 3 p.m. and 7 p.m. Saturday, Sept. 13, in the Basehor-Linwood High School auditorium.
This new version of "The Little Mermaid," written by Jim Caron, mirrors the classic tale, but incorporates a few surprises and humor.
MCT tour actors/directors Mackenzie Sherburne and Jon Gregory are both in their second season with the touring theater company. For more information, visit mctinc.org.
Cast list:
Celia - Brittany Laney
Delia - Moriah Manford
Amelia - Kristin Taylor
Ophelia - Kaitlin Allen
Gil - Andi Thomason
Prince - Nick Lopez
King - Alec Smith
Queen - Bridget Davis
Scouts - Lisa Tadlock, Cassandra Shaw, Sydney Stallbaumer, Danielle Ridder, Kristin Mance, Brittany Purrington, Brooklyn Hogfoss, Katie Eberth, Kayla Smith, Daniel Robinette and Abilgail Schif
Seasiders - Ethan Davis, Calder Hollond, Jill Espinoza, Melanie Johnson, Jenna Espinoza, Kyra Reece, Cassandra Eberth, Lee Seitter, Lyndon Seitter, Joliena Albrecht, Amber Gaffney, Shay Albrecht and Jada Mitchell
Town Criers - Lexus Cambell, Makayla Atkinson, Tara Sitzmann, Madisyn Winters, Zach Kamm and Jacob Robinette
Seahorses - Annie Grigsby, Sterling Hollond, Molly Blankenship, Mason Winters, Gabby Dicdow, Margaret Turrel, Sierra Salazar, Aubree Dutton, Delaney Farris, Delainey Wilson, Lillian Bogard, Jaedyn Roberts, Chloe Bogard, Sonya Zamora, Clarissa Kiefer and Amy Eberth
Assistant Directors - Lindsay Taylor, Rachel Eberth, Nicole Giomi and Kaylee Mather
Accompanist - Wendi Bogard
Mrs. Merman and Starfish - Mackenzie Sherburne, Tour Actor
Director - Jon Gregory, Tour Actor