VFW

to raise funds with 100-mile ride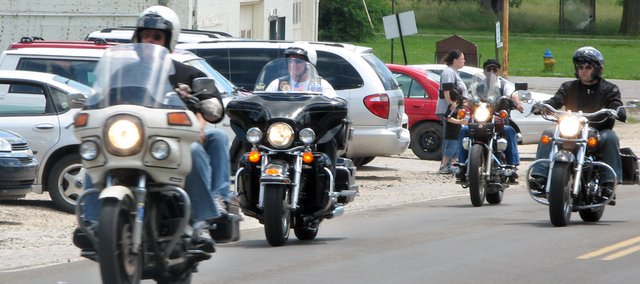 This Saturday motorcycle enthusiasts will have the opportunity to support the local Veterans of Foreign Wars and get a good ride out of it too.
The Basehor VFW will be hosting a 100-mile motorcycle ride at 10:30 a.m. Saturday, Sept. 13, at the Bob Wiley Memorial VFW Hall, 2806 N. 155th St.
Riders will first have the opportunity to fuel up on the VFW's second Saturday biscuits and gravy breakfast from 6 to 10 a.m. before kickstands go up at 10:30 a.m.
"We'll go from Basehor and the first stop is in Meriden, Kansas," VFW Commander Fred Box said. "We'll go out by Perry Lake, up to Valley Falls, to Easton and we'll be stopping at the VFW in Leavenworth. They have a grand opening for their new VFW club."
A $25 entry fee buys a spot in the ride, a meal at the VFW at the conclusion of the ride and a chance to win prizes. Cash prizes will be given to the youngest and oldest riders as well as to the best-looking and ugliest bike, Box said. Other prizes include restaurant gift certificates and free oil changes.
Past rides have been fairly popular and it's a way for the VFW to gain funding for day-to-day operations such as utility bills and monthly building payments. The recently purchased building is used by a number of local nonprofit civic organizations free of charge.
"Come support your local VFW," Box said. "It's a fundraiser for us. Motorcycle rides are one of the best fundraisers. I've been around to all the biker rallies I can handing out fliers. I'm hoping for 50 riders."
For more information, call Box at (913) 208-5273.