Pinnacle Entertainment drops bid for casino-hotel complex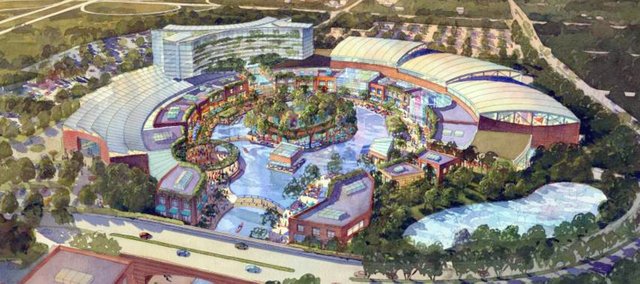 The Kansas Lottery's Gaming Facility Review Board's work got a little easier Tuesday.
The board is set to announce which state-owned, privately managed casino proposal it will approve for Wyandotte County on Friday, and one of the four remaining contenders announced it was dropping out.
Pinnacle Entertainment Inc. announced the withdrawal of its application as a lottery gaming facility manager for the Northeast Kansas Gaming Zone, citing in a statement "the current turmoil in the financial markets" and that "the company has decided to focus its resources on its existing projects and development opportunities in Louisiana, Missouri and other jurisdictions."
It's plans were to build a $649 million hotel and casino complex at Interstate 435 and Parallel Parkway.
Pinnacle's withdrawal leaves three proposals before the board: the Golden Heartland Casino, a casino and resort project on 200 acres immediately south and adjacent to Interstate 70 at 110th Street, straddling the Bonner Springs and Edwardsville boundary; the Kansas Speedway and Cordish Company's proposal for a $680 million Hard Rock Casino project at 821 Speedway Blvd.; and a proposal by Red Development for a for a $723 million casino near the interchange of Interstate 70 and I-435 in the Legends district.
Christopher Abraham, vice president of marketing for Golden Gaming, which has the Golden Heartland proposal, said the company would make no comments until its final presentation before the board Thursday in Topeka.
No Edwardsville officials could be reached for comment.
Pinnacle is the second application to be withdrawn from consideration for a casino in Wyandotte County. In late July, Sands Las Vegas announced it was dropping its pursuit of a casino proposal in Edwardsville.