Gas sipping Japanese mini-trucks gain popularity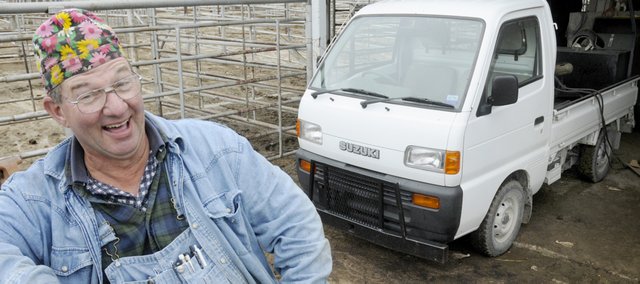 Holton
John Grau used to drive a big, gas-guzzling pickup truck while checking cattle and fences on his rural Jackson County farm.
Not anymore. Last spring he bought a Japanese-made mini-truck for that purpose. He said he probably saves at least $100 a week in gas money.
"It didn't bother my pride any to get into a little pickup truck to save money," Grau said.
It's been three years since Scott Bartlett began selling the mini-trucks at his auto shop in Holton. The flat-nosed used trucks imported from Japan are only 10 1/2 feet long by 4 1/2 feet wide. The steering wheel is on the right side of the cab.
"When I first got them people were all over the place looking at them," Bartlett said. "They'd never seen anything like them."
The trucks have grown in popularity, especially during the past year as gasoline prices neared the $4 mark in Kansas, Bartlett said. That's because most of the vehicles get 30 to 50 miles per gallon or even higher, depending on various factors, Bartlett and others said. Farmers and construction companies have been his main customers, Bartlett said.
A few weeks ago, Roger Johnson picked up a mini-truck in Montana. He bought it to save fuel while driving on his Douglas County farms.
"The (old) pickup got 15 mpg," said Johnson, who also owns R.D. Johnson Excavating Co., 1705 N. 1399 Road.
John McManigal bought his 1997 Suzuki mini-truck from Bartlett last December. A Holton welder, McManigal has his equipment on the back of the truck so he can drive to work sites.
"I'm surprised how versatile it is," McManigal said of his truck. You can load it down with equipment and it can get into such tight places. I can go right up to a 90-degree corner and turn easily."
The trucks can travel at top speeds of 55 mph and some even 60, Bartlett said. They can have radios, air conditioners and four-wheel drive. The vehicles generally sell for between $3,000 and $13,000, depending on their age and condition.
Restricted use only
The trucks have been available for years, but they were always considered off-road vehicles. In recent years as the safety conditions of the trucks have improved and their popularity has increased, more states are passing laws allowing restricted use on some roadways.
Kansas law described the vehicles as "micro utility" trucks. The law doesn't allow them to be driven on state or federal highways or interstates. They are not allowed on city streets unless a city approves its own ordinance allowing them.
Lawrence doesn't have an ordinance making that allowance.
The trucks can be driven on rural county roads in Kansas.
The city of Holton allows the trucks on its streets. A truck owner must have it titled through the county, proof of liability insurance and proof of assessment through the county appraiser's office. There also is a $75 annual fee.
Kansas requires the trucks to be titled as "nonhighway" because it doesn't consider them manufactured for street use. A truck being sold must be titled in the name of the person selling it as a micro utility truck.
'Buy with confidence'
In Kansas, individuals used to be able to get the trucks from Japan and then sell them from their front yards. Recent changes in state law now require a seller to be a licensed dealer. That allows for state sales tax to be collected, verification of vehicle identification numbers, for titles to be in English instead of Japanese and for qualified mechanics to see that they are in good condition, noted state Sen. Dennis Wilson, R-Overland Park, one of the legislators who pushed for changes.
"A consumer can come in and buy with confidence," said Wilson, owner of a car dealership in Paola who plans to be selling the mini-trucks soon. "You buy out of a front yard and you had nothing to fall back on."
It is unclear how many dealers sell the mini-trucks in Kansas. Because of federal import laws, most of the mini-trucks brought in are used vehicles. Used car dealers aren't asked what models and makes they sell, said Mike McLin, bureau manager of titles and registration and dealer licensing.
McLin said he knew of three dealerships: in New Strawn, Dodge City and Bartlett's in Holton. A Topeka dealer also was planning to sell them, he said.
A check with some auto dealers in Lawrence found that none was selling the trucks.
Wilson, Bartlett and others think the small trucks will continue to grow in popularity. Tulsa, Okla., has a new law that will make them street legal in November.